2018 Ireland Member Trip
Trip Dates: August 25-September 1, 2018
Final Reservation Deadline (EXTENDED): February 1, 2018

Trip Itinerary & Details (PDF)
Reservation Form (PDF)

Playing golf abroad is a life's dream for some golfers, the Alabama Golf Association wants to make it a reality for all AGA Members. Join us on "A Trip of a Lifetime" as we partner with Sullivan Golf & Travel to create an experience for AGA Members in Southwest Ireland from August 25-September 1, 2018. This is a great opportunity to meet new golfers who are AGA Members like you and share in golf and comraderie for a week.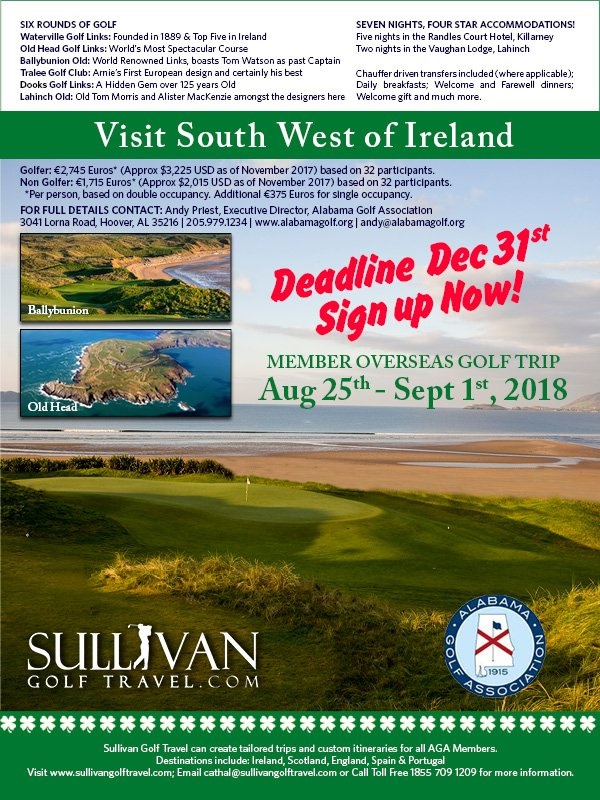 FAQ's:
Is airfare included in the price per person?
Airfare is not included in the price of the trip, but the Alabama Golf Association and Sullivan Golf & Travel will be happy to help you search for flights once the AGA receives your initial deposit.

Can I ride a golf cart?
Carts are not commonly used by golfers in the United Kingdom and Ireland. You may make a request for a cart on the Reservation Agreement. They are not available at Ballybunion and only allowed with a medical certificate at Lahinch and Tralee.

What is the standard rate for a caddy?
60 Euros/day plus tip is the common price.

Are refunds available if I cannot make the trip?
A full refund of the initial deposit is given only if written notification is received on or before January 8th, 2018. Cancellations received after January 8th, 2018 will forfeit the deposit. The AGA will try to make an effort to fill the vancancy to permit a refund.