Amateur Team Wins the Inaugural Alabama Cup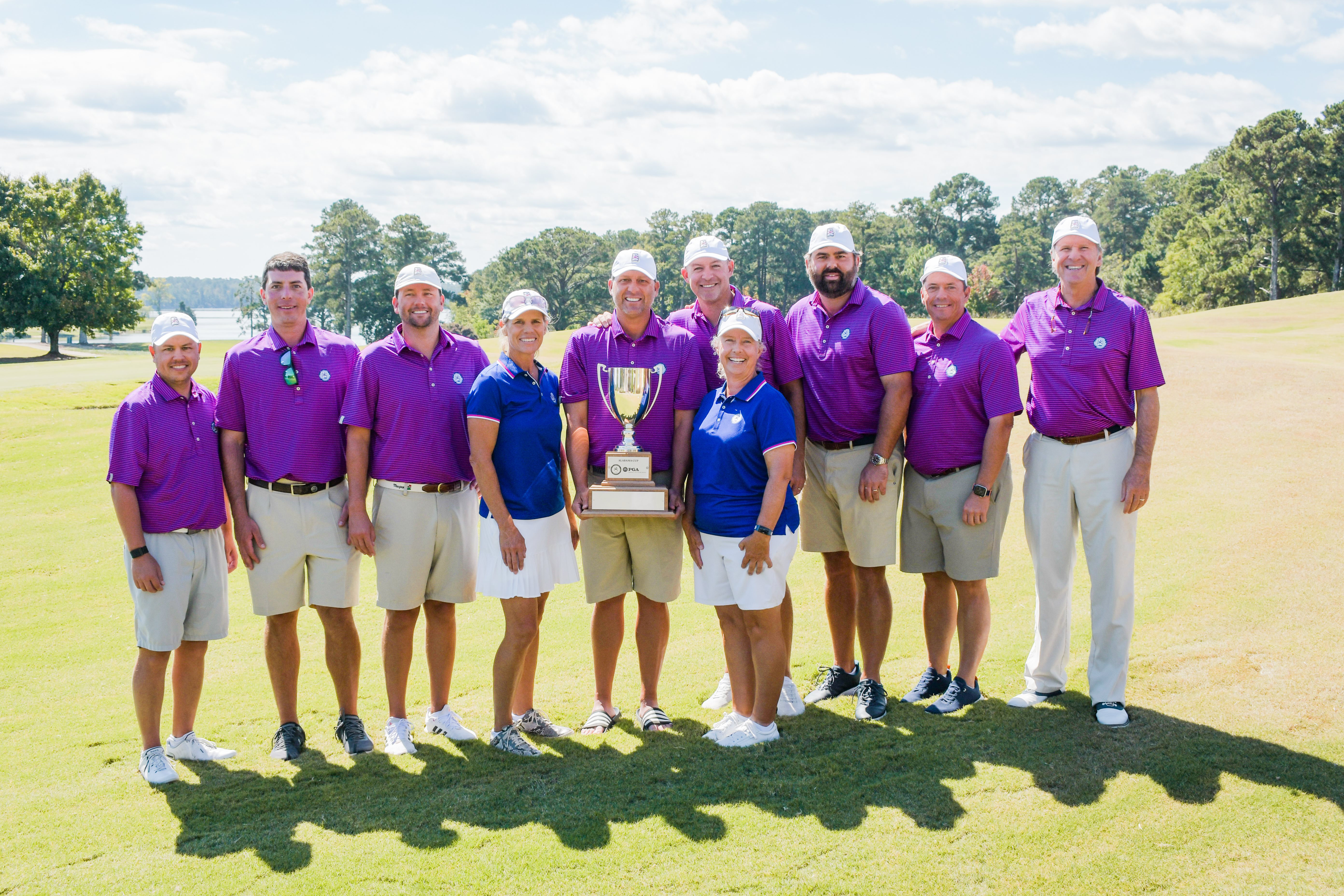 The inaugural Alabama Cup took place at Willow Point Golf & Country Club in Alexander City, AL on October 3-4, 2022. The event highlights competition between two ten-player teams selected by the Alabama Golf Association (Amateur Team) and the PGA Alabama - NW Florida Section (Professional Team).
The format consists of one round of Modified Alternate Shot Match Play and one round of Singles Match Play. Each match is worth one point with a half-point awarded for halved matches. No points are awarded for lost matches.
2022 Results:
Amateur Team: 12.0
Professional Team: 3.0
2022 Scoring & Results
| | |
| --- | --- |
| Amateur Team 2022 | Professional Team 2022 |
| Alex Balog | Todd Bailey |
| Daniel Burns | Robbie Blackwell |
| Wes Carter | Dominic Diaz |
| Woodie Eubanks | Steven Driggers |
| Matt Gourgeot | Noah Miller |
| Lea Green | Elizabeth Moultrie |
| Brinson Holder | Andrew Peyton |
| Steven Hudson | Patrick Richardson |
| Theresa Mahlik | Elaine Wood |
| Shaw Pritchett | Ty Zimmerman |

Future Sites
2024: TBD

Team Selection Criteria
Selection Process
The AGA selects a 10-player team to represent Alabama in this biennial competition against the Alabama - NW Florida Section of the PGA consisting of six (6) Male Mid-Amateurs (25 and older), two (2) Male Senior Amateurs (two (2) players 50 and older) and two (2) Female Amateurs.

An individual must have competed in an AGA Championship within the last two years as of September 1, 2022 to be eligible. The team selections include:
(2) Male Senior players with the highest point totals from the Alabama Senior Men's Amateur Rankings as of September 1, 2022
(4) Male Mid-Amateur players with the highest point totals from the Alabama Men's Amateur rankings as of September 1, 2022
(2) Male Mid-Amateur players selected by the AGA Championship Committee
(1) Female Senior player with the highest point total from the Alabama Senior Women's rankings as of September 1, 2022
(1) Female Amateur player selected by the AGA Championship Committee