Driving Fore the Game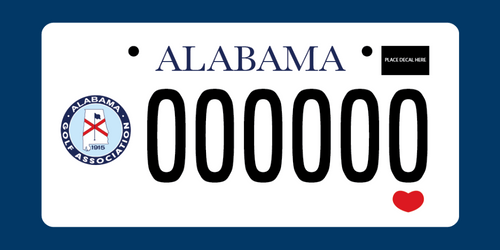 The AGA is proud to have launched Alabama's first-ever and only golf-themed license plate. Now, Alabamians will have the option to drive off the path and support the Alabama Golf Foundation by Driving Fore the Game!

For each plate issued, the Alabama Golf Association receives $41.25 to directly support our junior golf initiatives, including but not limited to Youth on Course and starting a male scholarship program to mirror the women's scholarship program.

You can get the tag any time, regardless of your renewal month--and you can have it personalized at no extra cost.
Here's how to get the tag: Visit your local vehicle licensing office in person (find your county's location here), and ask the clerk for the Alabama Golf Association specialty license plate. You can do this during your renewal month or at any time. Afterwards, yearly renewal will happen automatically.

If you want a personalized tag, reserve it online at the Alabama Department of Revenue Plate Reservation and Ordering System (PROS) website here before going to the licensing office. It's free, but you have to register the personalization ahead of time.

Did you pre-commit to purchase the Alabama Golf Association license plate? Special thanks to those who pre-committed the tag during our initial campaign! The state has emailed you a voucher with instructions. The Alabama Golf Association license plate is available now, and you can redeem your voucher during your renewal month or any time. If you misplaced your voucher, call 334-242-9000 to have it re-sent to you.

For any additional questions, email savannah@alabamagolf.org.