Alabama State Junior Player of the Year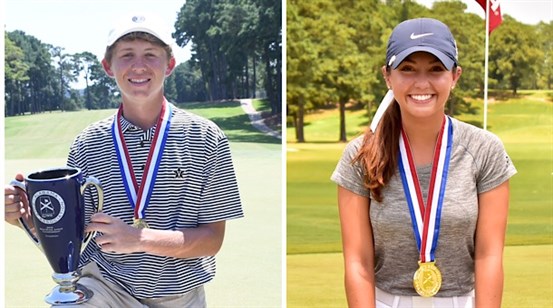 Gordon Sargent and Michaela Morard: 2019 Alabama State Junior Players of the Year
Junior Boys Player of the Year:



Gordon Sargent, 2021, of Birmingham, AL is a rising junior at Mountain Brook High School. Sargent's 2019 season was highlighted by winning the Alabama Boys State Junior Championship at Indian Hills Country Club in Tuscaloosa by 6 shots. He advanced to the Round of 64 at the 2019 USGA US Junior Championship, and a T2 individual finished help Mountain Brook High School win the State High School Team Championship. Additional 2019 accolades include a top 30 finish at both the Junior PGA Championship and the Sage Valley Invitational. Sargent has committed to play collegiate golf at Vanderbilt University.

Junior Girls Player of the Year:



Michaela Morard, 2020, of Huntsville is a rising high school senior at Randolph School. She won the 2019 Alabama Girls State Junior Championship tying the state record for most all-time victories and the 2019 Alabama Women's State Amateur Championship. She also helped Team Alabama to their fourth consecutive Southern Junior Cup title while improving her individual cup record to 14-0. Advanced to the Round of 32 at both the 2019 U.S. Girls Junior Championship and U.S. Women's Amateur Championships. Morard has verbally committed to playing for the University of Alabama in 2020.