Alabama State Junior Player of the Year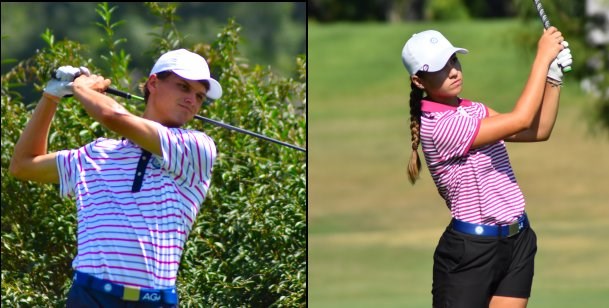 Ethan Hagood and Michaela Morard: 2017 Alabama State Junior Players of the Year
Male Junior Player of the Year:

Ethan Hagood, 2018, of Birmingham, AL is

a senior at Spain Park High School, claims the inaugural Alabama State Junior Boys Player of the Year honor. Hagood's 2017 season was highlighted by winning the Southern Junior Championship held at Willow Point Golf & Country Club, where he birdied his last five holes, including all three playoff holes for the victory. He finished 3

rd

at the Alabama Boys State Junior Championship at Goose Pond Colony Resort, won multiple Southeastern Junior Golf Tour (SJGT) events, and totaled a 3-0 record as a member of Team Alabama that won the Southern Junior Cup played in Oxford, MS. Hagood has signed to play collegiate golf at the University of Alabama-Birmingham.




Female Junior Player of the Year:

Michaela Morard, 2020, of Huntsville, AL is

a sophomore at the Randolph School, captures the first Alabama State Junior Girls Player of the Year award. Her stellar 2017 season included a victory at the Alabama Girls State Junior Championship at Valley Hill Country Club and two AJGA wins (Justin Rose All-Star Invitational, Junior All-Star at Chateau Elan) along with 3

rd

place finishes at both the Junior PGA Championship and AJGA Rolex Tournament of Champions. Morard competed in three USGA national championships in 2017. She finished 4

th

individually at the USGA Women's State Team leading Team Alabama to a 4

th

place team finish, and advanced to the Round of 64 at both the U.S. Girls Junior and U.S. Women's Amateur Championships. Morard was also a member of the victorious Team Alabama at the Southern Junior Cup in Oxford, MS posting a 3-0 record. She is a class of 2020 commit to the University of Alabama.




Player of the Year Selection Process:
Selection is based on the Alabama State Junior Golf Rankings
Rankings points accumulated from September 1 thru August 31 of the current year will be taken into consideration
Players that graduate in May of current rankings calendar remain eligible for end-of-year awards, selected in August.
The top Boy and Girl in the current-year rankings as of August 31st will be awarded the Alabama State Junior Player of the Year
In the event of a tie for Alabama State Junior Player of the Year, both players would be awarded Player of the Year honors
Player of the Year Awards will be presented to both the male and female recipient each spring at the Alabama Golf Association Annual Meeting