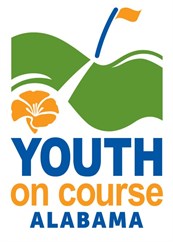 LAUNCHING MONDAY, JUNE 15, 2020!!!


About Youth on Course
The core purpose of Youth on Course is to provide youth ages 6 to 18 with access to life-changing opportunities through golf. Headquartered in Pebble Beach, Youth on Course is a 501 (c)(3) organization that began as the charitable arm of the Northern California Golf Association. Since 2006, more the 900,000 rounds have been played by Youth on Course members and has awarded more than $1.73 million for college scholarships. Members can play thousands of courses for $5 or less in 38 regions overseen by 41 Allied Golf Associations.
An important purpose of the Alabama Golf Association is to grow the game. The AGA and the Youth on Course Alabama Board of Directors are committed to getting youth golfing at an affordable rate across the State of Alabama. For the participating facilities in Alabama, the AGA recognize that the $5.00 fee may not adequatley cover the expense of the round so each course is subsidized a negotiated rate by the Alabama Golf Association for the remainder of the green fee.
Youth on Course Alabama Membership Information
$25.00 Annual Membership Fee
Includes:
Access Youth on Course rates nationwide
One complimentary Robert Trent Jones Trail Card
Eligibile for Youth on Course College Scholarships
Complimentary GHIN Handicap Index
Access to Alabama Golf Association Championships
Access to exclusive Alabama Golf Association deals and discounts
Youth on Course Alabama Frequently Asked Questions
How long does a Youth on Course Alabama membership last?
YOC Alabama is an annual membership and must be renewed each calendar year.
What is an eligible Youth on Course Alabama round of golf?
An eligible Youth on Course Alabama round must be a "recreational round". Tournament rounds including the practice round and any organized team practice or round is not eligible to receive the Youth on Course Alabama rate.
Should I go straight to the golf course or call ahead for a tee time?
Youth on Course Alabama should call ahead for a tee time no more the 48 hours before they wish to play
Interested in being a Youth on Course participating facility?
Contact the Alabama Golf Association at (205) 979-1234
Support Youth on Course Alabama
Golf is an expensive sport, but one that provides opportunties that can lead youth to a successful life. Your tax-deductible donation provides youth in Alabama with access to golf for $5 or less per round and access to college scholarships. Together with the Alabama Golf Association, we can provide youth with access to life-changing opportunitites through golf and remove cost as a barrier of entry for Youth on Course Alabama members. If willing and able, we encourage you to donate to Youth on Course Alabama, where every dollar donated is invested back into Youth on Course Alabama. Use the donation link above to donate by credit card or mail check to:
Alabama Golf Association Foundation
Attn: Jeremy Gardner, Director of Junior Golf
3041 Lorna Rd.
Hoover, AL 35216
*Please include Youth on Course Alabama on memo line.