World Handicap System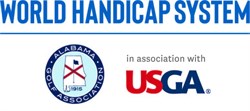 ​
New system set to debut on January 1, 2020
The Alabama Golf Association is excited to introduce the World Handicap System to our member clubs and golfers.
In advance of the 2020 release of the WHS, the AGA staff will be travelling the state educating Golf staff members, Handicap Chairs, and all interested parties wanting to learn about the WHS. Online training resources will be available as well for those unable to attend an in-person seminar.
To help educate our membership, we strongly encourage you to utilize the resources that we have gathered for you below. You may want to link your website to this page and we highly recommend printing out the WHS infographic posters and displaying them around your club. Please continue to check back often as we will continue to update this page as more information becomes available.
World Handicap System Launch Schedule
December 15 - Last revision under the USGA Handicap System
December 31 - Last day to post a score until January 6
January 1 thru January 6 - Conversion period where all GHIN handicap products will be unavailable (score posting kiosk, mobile app, GHIN.com). Members hold scorecards to be posted once transition is completed.
January 6 - Launch of World Handicap System. New GHIN products activated. Score posting begins under the WHS Rules of Handicapping
Alabama Golf Association Rules of Golf/WHS Seminar Schedule
WHS Resources for Golfers
WHS Resources for Club Administrators
*Note: USGA Tournament Management will still be operational during the WHS transition period. However, access to update Handicap Indexes will not be available during the transition.

Recorded Online Training Webinars Conducted by USGA for Club Administrators - Click link to watch video presentation
| | |
| --- | --- |
| Session | Description |
| Admin Portal | Review golfer administration tasks including score posting and Handicap Index management. (59:52 in length) |
| Kiosk Setup & Overview | Learn how to setup a Club Kiosk and see a demonstration of the Kiosk features and functionality. (45:33 in length) |
| Launch Prep | Preparing your club and golfers for utilizing the new GHIN Product Suite. (56:03 in length) |
| Template Reports | Review of the available reports for club admins. |