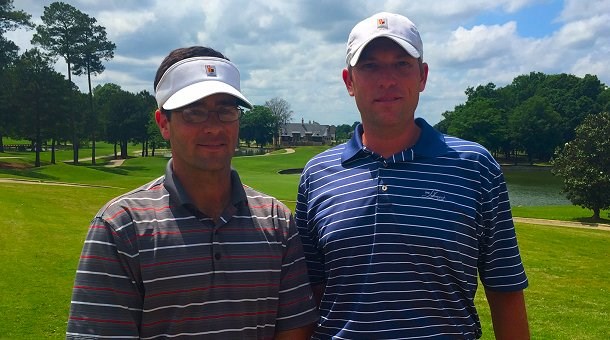 Trip Smalley-Matt Ritchie
MONTGOMERY, AL – First round stroke play qualifying results of the 34th Alabama State Four-Ball Championship hosted by Wynlakes Golf & Country Club in Montgomery, AL on Thursday, April 28, 2016 (6758 yards, par 36-36—72, 73.1/126).
Trip Smalley & Matt Ritchie of Mobile fired a nine-under 63 to take a two stroke lead after the first round. The Mobile tandem carded seven birdies and an eagle in their round.
Steve Hudson of Birmingham & Robert Nelson of Fairhope is in second place after posting a seven-under 65.
The team of Matt Gourgeot (Decatur) and Tony Olive (Florence) won last year's championship at Turtle Point Yacht & Country Club in Killen, AL but are not defending this year. Gourgeot partnered with Woodie Eubanks of Trussville to shoot an opening round of 68 and are in a tie for seventh place. Olive is not entered in this year's championship. Eubanks won the title in 2011 with Forrest Crabtree.
The average score in round one was 70.3 with 25 teams breaking par on the Joe Lee-designed Wynlakes layout.
The championship format is contested over 36-holes of four-ball stroke play to determine 16 qualifiers for match play.
Friday's Starting Times: https://www.ghintpp.com/bamagolf/TPPOnlineScoring/Pairings.aspx?id=266&round=657
Hole-by-Hole Scoring: https://www.ghintpp.com/bamagolf/TPPOnlineScoring/ResultsStroke.aspx?id=266
Round 1 Scores
| | | |
| --- | --- | --- |
| Place | Team | Score |
| 1 | Trip Smalley, Mobile, Ala. - Matt Ritchie, Mobile, Ala. | 31-32--63 (-9) |
| 2 | Steve Hudson, Birmingham, Ala. - Robert Nelson, Fairhope, Ala. | 32-33--65 (-7) |
| T3 | Clint Compton, Albertville, Ala. - Mike Lewis, Guntersville, Ala. | 32-34--66 (-6) |
| T3 | Blake Mozley, Albertville, Ala. - Robson Copenhaver, Scottsboro, Ala. | 31-35--66 (-6) |
| T5 | Lance Evans, Oxford, Ala. - Cypress Hathorn, Pell City, Ala. | 33-34--67 (-5) |
| T5 | Alex Green, Point Clear, Ala. - Steven Setterstrom Jr., Mobile, Ala. | 34-33--67 (-5) |
| T7 | Bo Farlow, Birmingham, Ala. - Steven Groover, Birmingham, Ala. | 34-34--68 (-4) |
| T7 | Emile Vaughan, Pike Road, Ala. - Shaw Pritchett, Montgomery, Ala. | 34-34--68 (-4) |
| T7 | Matthew Gourgeot, Decatur, Ala. - Woodie Eubanks, Trussville, Ala. | 34-34--68 (-4) |
| T7 | Stan Sherlin, Montgomery, Ala. - Walker Grant, Montgomery, Ala. | 34-34--68 (-4) |
| T11 | Jordan Maynor, Andalusia, Ala. - William Chambers, Andalusia, Ala. | 35-34--69 (-3) |
| T11 | Will Swift, Hoover, Ala. - Clay Guerin, Birmingham, Ala. | 36-33--69 (-3) |
| T11 | Matt Johnson, Dothan, Ala. - Hunter Bronson, Montgomery, Ala. | 31-38--69 (-3) |
| T11 | Matthew Myers, Auburn, Ala. - Tanner Guthrie, Auburn, Ala. | 34-35--69 (-3) |
| T11 | Joey Holley, Troy, Ala. - Chase Rogers, Troy, Ala. | 36-33--69 (-3) |
| T11 | Scott Weaver, Madison, Ala. - Ryan Campbell, Meridianville, Ala. | 33-36--69 (-3) |
| T11 | Hamp Andrews, Mobile, Ala. - Joe Robertson, Prattville, Ala. | 33-36--69 (-3) |
| T11 | Kevin Carden, Hoover, Ala. - John Randall, Tuscaloosa, Ala. | 35-34--69 (-3) |
| T19 | Richard Douglas, Trussville, Ala. - Forrest Crabtree, Mobile, Ala. | 34-36--70 (-2) |
| T19 | Robbie Cotten, Brewton, Ala. - Tripp Owens, Brewton, Ala. | 37-33--70 (-2) |
| T19 | Kevin Terrell, Brewton, Ala. - McGowin Miller, Alexander City, Ala. | 33-37--70 (-2) |
| T19 | Jeremy Burns, Birmingham, Ala. - Nick Wintermantel, Vestavia, Ala. | 35-35--70 (-2) |
| T19 | Tony Parrish, Prattville, Ala. - Clark Alexander, Prattville, Ala. | 34-36--70 (-2) |
| T24 | Ty Thompson, Point Clear, Ala. - Jordy Hayden, Fairhope, Ala. | 34-37--71 (-1) |
| T24 | Taylor Jones, Birmingham, Ala. - Taylor Hereford, Hoover, Ala. | 36-35--71 (-1) |
| T26 | Elliott Jones, Tuscaloosa, Ala. - Dustin Brown, Tuscaloosa, Ala. | 36-36--72 (Even) |
| T26 | Vic Kyatt III, Birmingham, Ala. - Andy McRae, Hoover, Ala. | 36-36--72 (Even) |
| T26 | Paul McGee, Birmingham, Ala. - Steve Bailey, Jacksonville, Ala. | 35-37--72 (Even) |
| T29 | Michael Smith, Auburn, Ala. - Jeff Chastain, Aubrurn, Ala. | 36-37--73 (+1) |
| T29 | Daniel Creel, Florence, Ala. - Bill Brewster, Florence, Ala. | 35-38--73 (+1) |
| T29 | Jonathan Spann, Florence, Ala. - Alan Allgood, Fairhope, Ala. | 34-39--73 (+1) |
| T29 | Joe Guthrie, Auburn, Ala. - Garrison Guthrie, Auburn, Ala. | 35-38--73 (+1) |
| T29 | Tobin Ayers, Auburn, Ala. - Mitch Pugh, Auburn, Ala. | 37-36--73 (+1) |
| T29 | Phillip Provost, Birmingham , Ala. - Brandon Scarborough, Auburn, Ala. | 36-37--73 (+1) |
| T29 | Kyle Demeester, Madison, Ala. - Cody Causey, Elmore, Ala. | 38-35--73 (+1) |
| T36 | Trevor McKee, Hoover, Alabama - Patrick McGowan, Birmingham, Ala. | 38-37--75 (+3) |
| T36 | Will Pearce, Selma, Ala. - William Free, Marion Junction, Ala. | 35-40--75 (+3) |
| 38 | Bill Best, Tuscaloosa, Alabama - Will Humber, Tuscaloosa, Ala. | 39-38--77 (+5) |
| 39 | Gary Stephenson, Joppa, Ala. - Brandon Elder, Union Grove, Ala. | 39-39--78 (+6) |