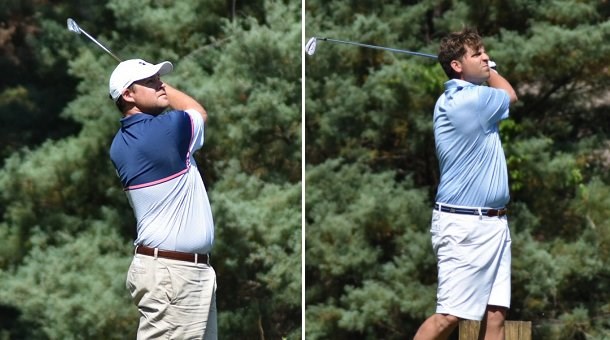 Matthew Gourgeot-Woodie Eubanks Amongst Four Teams at 133
MONTGOMERY, AL – Second round stroke play qualifying results of the 34th Alabama State Four-Ball Championship hosted by Wynlakes Golf & Country Club in Montgomery, AL on Friday, April 28, 2016 (6758 yards, par 36-36—72, 73.1/126).
Four teams stand at 11-under par 133 after 36 holes at Wynlakes. Trip Smalley & Matt Ritchie of Mobile, Steve Hudson of Birmingham & Robert Nelson of Fairhope, Will Swift of Hoover & Clay Guerin of Birmingham and Matthew Gourgeot of Decatur & Woodie Eubanks of Trussville share the medalist honors. A blind draw was held to determine match play seeds with Hudson-Nelson gaining the number one position followed by Swift-Guerin (2), Gourgeot-Eubanks (3) and Smalley-Ritchie (4).
The average score in round two was 1.1 shots lower than round one at 69.2.
After 36-holes of four-ball stroke play the field was cut to the low 16 teams for match play. The cut line fell at seven-under 137. Wynlakes members Stan Sherlin & Walker Grant of Montgomery birdied their last five holes to move the cut line to 137 eliminating the need for a playoff.
Match Play Bracket: https://www.ghintpp.com/bamagolf/TPPOnlineScoring/MatchTree.aspx?id=266
Hole-by-Hole Scoring: https://www.ghintpp.com/bamagolf/TPPOnlineScoring/ResultsStroke.aspx?archive=stroke&id=266
This championship is conducted by the Alabama Golf Association.
Round 2 Scores
| | | |
| --- | --- | --- |
| Place | Team | Score |
| T1 | Will Swift, Hoover, Ala. - Clay Guerin, Birmingham, Ala. | 69-64--133 (-11) |
| T1 | Trip Smalley, Mobile, Ala. - Matt Ritchie, Mobile, Ala. | 63-70--133 (-11) |
| T1 | Steve Hudson, Birmingham, Ala. - Robert Nelson, Fairhope, Ala. | 65-68--133 (-11) |
| T1 | Matthew Gourgeot, Decatur, Ala. - Woodie Eubanks, Trussville, Ala. | 68-65--133 (-11) |
| T5 | Alex Green, Point Clear, Ala. - Steven Setterstrom Jr., Mobile, Ala. | 67-67--134 (-10) |
| T5 | Blake Mozley, Albertville, Ala. - Robson Copenhaver, Scottsboro, Ala. | 66-68--134 (-10) |
| T7 | Bo Farlow, Birmingham, Ala. - Steven Groover, Birmingham, Ala. | 68-67--135 (-9) |
| T7 | Jordan Maynor, Andalusia, Ala. - William Chambers, Andalusia, Ala. | 69-66--135 (-9) |
| T7 | Richard Douglas, Trussville, Ala. - Forrest Crabtree, Mobile, Ala. | 70-65--135 (-9) |
| T7 | Matt Johnson, Dothan, Ala. - Hunter Bronson, Montgomery, Ala. | 69-66--135 (-9) |
| T11 | Daniel Creel, Florence, Ala. - Bill Brewster, Florence, Ala. | 73-63--136 (-8) |
| T11 | Emile Vaughan, Pike Road, Ala. - Shaw Pritchett, Montgomery, Ala. | 68-68--136 (-8) |
| T11 | Taylor Jones, Birmingham, Ala. - Taylor Hereford, Hoover, Ala. | 71-65--136 (-8) |
| T14 | Lance Evans, Oxford, Ala. - Cypress Hathorn, Pell City, Ala. | 67-70--137 (-7) |
| T14 | Vic Kyatt III, Birmingham, Ala. - Andy McRae, Hoover, Ala. | 72-65--137 (-7) |
| T14 | Stan Sherlin, Montgomery, Ala. - Walker Grant, Montgomery, Ala. | 68-69--137 (-7) |
| | Failed to Qualify for Match Play | |
| T17 | Scott Weaver, Madison, Ala. - Ryan Campbell, Meridianville, Ala. | 69-69--138 (-6) |
| T17 | Hamp Andrews, Mobile, Ala. - Joe Robertson, Prattville, Ala. | 69-69--138 (-6) |
| T19 | Matthew Myers, Auburn, Ala. - Tanner Guthrie, Auburn, Ala. | 69-70--139 (-5) |
| T19 | Robbie Cotten, Brewton, Ala. - Tripp Owens, Brewton, Ala. | 70-69--139 (-5) |
| T19 | Joey Holley, Troy, Ala. - Chase Rogers, Troy, Ala. | 69-70--139 (-5) |
| T22 | Ty Thompson, Point Clear, Ala. - Jordy Hayden, Fairhope, Ala. | 71-69--140 (-4) |
| T22 | Clint Compton, Albertville, Ala. - Mike Lewis, Guntersville, Ala. | 66-74--140 (-4) |
| T22 | Kevin Terrell, Brewton, Ala. - McGowin Miller, Alexander City, Ala. | 70-70--140 (-4) |
| 25 | Tony Parrish, Prattville, Ala. - Clark Alexander, Prattville, Ala. | 70-71--141 (-3) |
| T26 | Jonathan Spann, Florence, Ala. - Alan Allgood, Fairhope, Ala. | 73-69--142 (-2) |
| T26 | Tobin Ayers, Auburn, Ala. - Mitch Pugh, Auburn, Ala. | 73-69--142 (-2) |
| T26 | Kyle Demeester, Madison, Ala. - Cody Causey, Elmore, Ala. | 73-69--142 (-2) |
| T26 | Kevin Carden, Hoover, Ala. - John Randall, Tuscaloosa, Ala. | 69-73--142 (-2) |
| T30 | Michael Smith, Auburn, Ala. - Jeff Chastain, Aubrurn, Ala. | 73-70--143 (-1) |
| T30 | Phillip Provost, Birmingham , Ala. - Brandon Scarborough, Auburn, Ala. | 73-70--143 (-1) |
| T30 | Paul McGee, Birmingham, Ala. - Steve Bailey, Jacksonville, Ala. | 72-71--143 (-1) |
| T30 | Trevor McKee, Hoover, Alabama - Patrick McGowan, Birmingham, Ala. | 75-68--143 (-1) |
| 34 | Jeremy Burns, Birmingham, Ala. - Nick Wintermantel, Vestavia, Ala. | 70-76--146 (+2) |
| T35 | Joe Guthrie, Auburn, Ala. - Garrison Guthrie, Auburn, Ala. | 73-74--147 (+3) |
| T35 | Will Pearce, Selma, Ala. - William Free, Marion Junction, Ala. | 75-72--147 (+3) |
| 37 | Elliott Jones, Tuscaloosa, Ala. - Dustin Brown, Tuscaloosa, Ala. | 72-77--149 (+5) |
| 38 | Bill Best, Tuscaloosa, Alabama - Will Humber, Tuscaloosa, Ala. | 77-73--150 (+6) |
| 39 | Gary Stephenson, Joppa, Ala. - Brandon Elder, Union Grove, Ala. | 78-73--151 (+7) |
Round of 16 Matches
Matches Starting on Tee: 1
Time Seed Team A Seed Team B
7:30 am 1 Steve Hudson / Robert Nelson (133) vs. 16 Vic Kyatt III / Andy McRae (137)
7:42 am 8 Richard Douglas / Forrest Crabtree (135) vs. 9 Matt Johnson / Hunter Bronson (135)
7:54 am 4 Trip Smalley / Matt Ritchie (133) vs. 13 Emile Vaughan / Shaw Pritchett
8:06 am 5 Alex Green / Steven Setterstrom Jr. (134) vs. 12 Taylor Jones / Taylor Hereford (136)
Matches Starting on Tee: 10
7:30 am 2 Will Swift / Clay Guerin (133) vs. 15 Lance Evans / Cypress Hathorn (137)
7:42 am 7 Jordan Maynor / William Chambers (135) vs. 10 Bo Farlow / Steven Groover (135)
7:54 am 3 Matthew Gourgeot / Woodie Eubanks (133) vs. 14 Stan Sherlin / Walker Grant (137)
8:06 am 6 Blake Mozley / Robson Copenhaver (134) vs. 11 Daniel Creel / Bill Brewster (136)