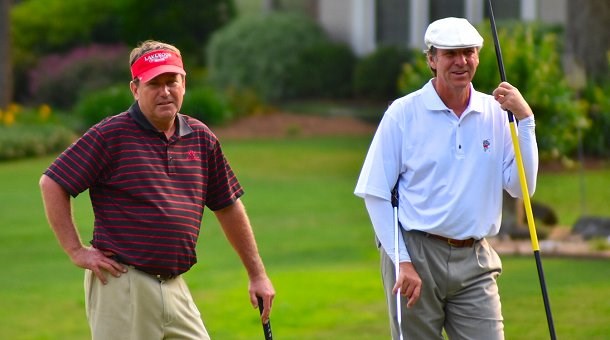 Robert Nelson-Steve Hudson
MONTGOMERY, AL – Quarterfinal and round of 16 results of the 34th Alabama State Four-Ball Championship hosted by Wynlakes Golf & Country Club in Montgomery, AL on Saturday, April 30, 2016 (6758 yards, par 36-36—72, 73.1/126).
Co-medalists Steve Hudson of Birmingham & Robert Nelson of Fairhope is the highest remaining seed after surviving their two matches on Saturday. The number one seed needed 19 holes to defeat Vic Kyatt III of Birmingham & Andy McRae of Hoover in the round of 16 then taking a 3 and 1 decision over Matt Johnson of Dothan & Hunter Bronson of Montgomery.
Hudson & Nelson will face Taylor Jones of Birmingham & Taylor Hereford of Hoover in the first semifinal match. Bo Farlow & Steven Groover of Birmingham matches up with Daniel Creel & Bill Brewster of Florence in the other semifinal.
Semifinal matches begin at 7:30am at Wynlakes with the championship match slated for approximately 12:00pm.
Match Play Bracket: https://www.ghintpp.com/bamagolf/TPPOnlineScoring/MatchTree.aspx?id=266
This championship is conducted by the Alabama Golf Association.
Round of 16 Results
(1) Steve Hudson / Robert Nelson def. ( 16) Vic Kyatt III / Andy McRae 19 holes
(8) Matt Johnson / Hunter Bronson def. ( 9) Richard Douglas / Forrest Crabtree 1 up
(4 ) Emile Vaughan / Shaw Pritchett def. ( 13) Trip Smalley / Matt Ritchie 2 and 1
(5) Taylor Jones / Taylor Hereford def. ( 12) Alex Green / Steven Setterstrom Jr. 3 and 2
(2 ) Will Swift / Clay Guerin def. ( 15) Lance Evans / Cypress Hathorn 1 up
(7) Bo Farlow / Steven Groover def. ( 10) Jordan Maynor / William Chambers 2 and 1
(3) Matthew Gourgeot / Woodie Eubanks def. ( 14) Stan Sherlin / Walker Grant 6 and 5
(6) Daniel Creel / Bill Brewster def. ( 11) Blake Mozley / Robson Copenhaver 2 and 1
Quarterfinal Results
(1) Steve Hudson / Robert Nelson def. ( 9) Matt Johnson / Hunter Bronson 3 and 1
(12) Taylor Jones / Taylor Hereford def. ( 13) Emile Vaughan / Shaw Pritchett 3 and 1
(10) Bo Farlow / Steven Groover def. ( 2) Will Swift / Clay Guerin 3 and 2
(11) Daniel Creel / Bill Brewster def. ( 3) Matthew Gourgeot / Woodie Eubanks 1 up
Semifinal Starting Times
7:30 am (1) Steve Hudson / Robert Nelson (133) vs. (12) Taylor Jones / Taylor Hereford (136)
7:45 am (10) Bo Farlow / Steven Groover (135) vs. (11) Daniel Creel / Bill Brewster (136)