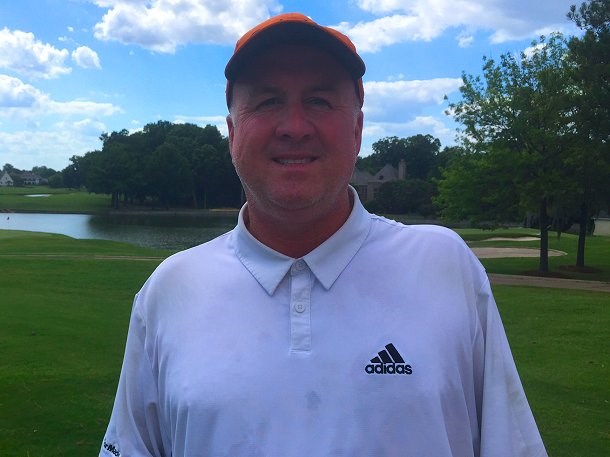 Chip Sullivan of Pearl, MS
MONTGOMERY, AL – Final results from U.S. Senior Open Championship Sectional Qualifying hosted by Wynlakes Golf & Country Club in Montgomery, AL on Monday, June 20, 2016 (6784 yards, par 36-36—72, Course/Slope Rating: 73.1/126).
One qualifying spot and two alternate positions were available at this qualifying site.
Gary Rusnak of Santa Rosa Beach, FL and Chip Sullivan of Pearl, MS each posted a three-under 69 for medalist honors. Sullivan made a par on the third playoff hole to claim the qualifying spot.
There was a three-way playoff at 70 for the second alternate position. Rae Schuessler of Gulf Shores, AL defeated co-low amateurs Hamp Andrews of Daphne, AL and Steve Hudson of Birmingham, AL on the third playoff hole to claim the spot.
Sullivan advanced to the Championship that will be played at Scioto Country Club in Columbus, OH August 11-14, 2016.
Hole-by-hole scoring can be viewed here: https://www.ghintpp.com/bamagolf/TPPOnlineScoring/ResultsStroke.aspx?id=287
This qualifier was conducted by the Alabama Golf Association on behalf of the United States Golf Association.
| | | | |
| --- | --- | --- | --- |
| Place | Competitor | Score | |
| | Qualifier | | |
| T1 | Chip Sullivan, Pearl, Miss. | 33-36--69 (-3) | |
| | Alternates | | |
| T1 (1st Alt) | Gary Rusnak, Santa Rosa Beach, Fla. | 33-36--69 (-3) | |
| T3 (2nd Alt) | Rea Schuessler, Gulf Shores, Ala. | 36-34--70 (-2) | |
| | Failed To Qualify | | |
| T3 | Hamp Andrews, Daphne, Ala. | 36-34--70 (-2) | |
| T3 | Steven Hudson, Birmingham, Ala. | 34-36--70 (-2) | |
| T6 | John Carney, Hoover, Ala. | 35-36--71 (-1) | |
| T6 | Mark Nickerson, Roswell, Ga. | 33-38--71 (-1) | |
| T6 | Reed Hughes, Senatobia, Miss. | 36-35--71 (-1) | |
| T9 | Todd McCorkle, Birmingham, Ala. | 34-38--72 (Even) | |
| T9 | Robert Nelson, Fairhope, Ala. | 37-35--72 (Even) | |
| T11 | Bart Dornier, Metairie, La. | 35-38--73 (+1) | |
| T11 | William Garner, Selma, Ala. | 37-36--73 (+1) | |
| T11 | Thomas Brennan, Covington, La. | 36-37--73 (+1) | |
| T11 | Todd Thompson, Auburn, Ala. | 37-36--73 (+1) | |
| T15 | Benjamin Bates, Pensacola, Fla. | 38-36--74 (+2) | |
| T15 | Craig Stevens, Dallas, Ga. | 39-35--74 (+2) | |
| T15 | Fred Holton, Phenix City, Ala. | 37-37--74 (+2) | |
| T18 | Michael Campbell, Pensacola, Fla. | 39-36--75 (+3) | |
| T18 | Mark Lyons, Mableton, Ga. | 38-37--75 (+3) | |
| T18 | Rob Clark, Huntsville, Ala. | 40-35--75 (+3) | |
| T18 | Reid Sheftall, Ponte Vedra Beach, Fla. | 39-36--75 (+3) | |
| T22 | Walker Grant, Montgomery, Ala. | 37-39--76 (+4) | |
| T22 | Collin McCrary, Troy, Ala. | 38-38--76 (+4) | |
| T22 | Howard Rigdon, Trussville, Ala. | 37-39--76 (+4) | |
| T22 | Saysana Kongchan, Millbrook, Ala. | 37-39--76 (+4) | |
| T22 | Scott Smith, Mobile, Ala. | 38-38--76 (+4) | |
| T22 | Bryan Askew, Decatur, Ala. | 37-39--76 (+4) | |
| T28 | Rusty Ethridge, Jackson, Miss. | 40-37--77 (+5) | |
| T28 | Mike Riley, Panama City, Fla. | 39-38--77 (+5) | |
| T30 | Jack Doane, Montgomery, Ala. | 41-37--78 (+6) | |
| T30 | Mark Ernst, Seneca, S.C. | 36-42--78 (+6) | |
| T32 | Ralph Mathews, Andalusia, Ala. | 36-43--79 (+7) | |
| T32 | Michael Mozur, Gulf Breeze, Fla. | 37-42--79 (+7) | |
| T32 | Jesse Allen, Jackson, Miss. | 39-40--79 (+7) | |
| T35 | Stephen Shelton, Niceville, Fla. | 40-40--80 (+8) | |
| T35 | Claud Cooper, Birmingham, Ala. | 39-41--80 (+8) | |
| T35 | Lester Mitchell, Demopolis, Ala. | 41-39--80 (+8) | |
| T38 | Bob Peavler, Santa Rosa Beach, Fla. | 44-38--82 (+10) | |
| T38 | Ken Peacock, Brandon, Miss. | 40-42--82 (+10) | |
| T40 | Emile Vaughan, Pike Road, Ala. | 42-41--83 (+11) | |
| T40 | Walton Ashwander, Hartselle, Ala. | 41-42--83 (+11) | |
| T42 | Kelsey Van Every, Starkville, Miss. | 42-43--85 (+13) | |
| T42 | Bill Best, Tuscaloosa, Ala. | 41-44--85 (+13) | |
| T44 | Mark Dillard, Trussville, Ala. | (WD) | |
| T44 | Dave Pickett, Oliver Springs, Tenn. | (WD) | |
| T44 | Bruce Holliday, Pensacola, Fla. | (WD) | |
| T44 | Tony Olive, Florence, Ala. | (WD) | |
| T44 | John Wright, Gulf Shores, Ala. | (WD) | |
| T44 | Steve Malone, Mobile, Ala. | (WD) | |
| T44 | Ken Mattini, Wheeling, Ill. | (WD) | |
| T44 | Greg Jones, Mobile, Ala. | (WD) | |
| T44 | Jose Coceres, Jupiter, Fla. | (NS) | |
| T44 | Robert Willis, Grenada, Miss. | (NC) | |
| T44 | Alan Brezin, Pinson, Ala. | (NC) | |
| T44 | John Guzman, Marietta, Ga. | (NS) | |
| T44 | David Marchand, Gonzales, La. | (DQ) | |