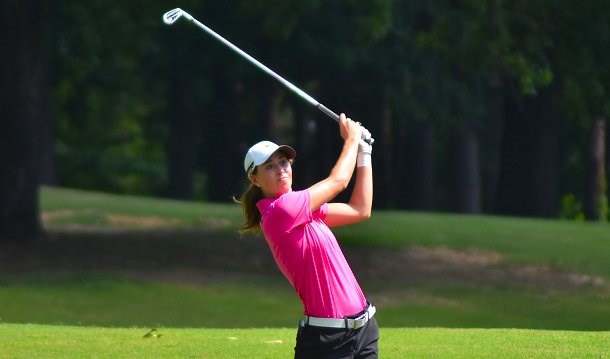 Elaine Wood of Spanish Fort
JASPER, AL – Round of 16 and quarterfinal match play results of the 84th Alabama Women's State Amateur Championship of the Alabama Golf Association hosted by Musgrove Country Club in Jasper, AL on Thursday, June 23, 2016 (Championship Division=6004 yards, par 35-36—71, 74.2/139; Tournament Division=4987 yards, par 35-36—71, 68.5/117).
Defending champion and number two ranked amateur in Alabama, Heather Nail of Hartselle, fell to fourth-ranked Elaine Wood of Spanish Fort by a 3 and 2 score. Wood then defeated Karlee Allen of Berry, 3 and 2, to advance to the semifinals.
48-year-old Theresa Mahlik of Madison is quickly becoming the Cinderella story and showing the younger generation how to compete at match play. Mahlik defeated Jordan Susce of Birmingham 1 up in the round of 16 and advanced past Beth Ann Compton of Hartselle 3 and 2 in the quarterfinals.
Stroke play qualifying medalist LeeAnn Cahoon of Prattville could not advance past the round of 16 as sixteenth seeded Molly Norris of Winfield won by a 2 and 1 decision. Norris then fell to Jesse Lawley of Rainbow City, 6 and 5, in the afternoon quarterfinals.
Virginia Green of Point Clear moved into the semifinals with a 2 and 1 victory over Sophie Burks of Montgomery in the round of 16 and a narrow 1 up win over Morgan Natale of Birmingham in the afternoon quarterfinals.
Green and Lawley will meet in one semifinal while Wood and Mahlek square off in the other semifinal match.
Championship division semifinal matches will begin at 8:00am at Musgrove Country Club on Friday with the championship match played in the early afternoon.
In Tournament Division action, Candy Mitchell of Springville and Lynn Glover of Birmingham will play for the Tournament First Flight title while Diane Sartain of Jasper and Keri Rutledge of Birmingham square off in the Tournament Second Flight final match.
Players that lost in the Championship Division round of 16 and Tournament Division semifinals fell into consolation brackets.
Alabama State Women's Amateur Championship is open to any female amateur golfer who is a legal resident of Alabama, is a member in good standing of a club which is a member of the Alabama Golf Association (AGA) and has an active GHIN® USGA Handicap Index® at an AGA member club that does not exceed 36.0.
For more information on the Alabama Women's State Amateur Championship including hole-by-hole scoring and match play brackets please visit: http://www.alabamagolf.org or https://www.ghintpp.com/bamagolf/TPPOnlineScoring/Default.aspx?id=269
Championship Bracket
Round of 16 (Seed, Name Qualifying Score, Result)
(16) Molly Norris, Winfield, Ala. (80) def. (1) LeeAnn Cahoon, Prattville, Ala. (71), 2 and 1
(9) Jesse Lawley, Rainbow City, Ala. (78) def. (8) Ashton Maddaloni, Eclectic, Ala. (78), 2 and 1
(4) Virginia Green, Point Clear, Ala. (75) def. (13) Sophie Burks, Montgomery, Ala. (79), 2 and 1
(5) Morgan Natale, Birmingham, Ala. (76) def. (12) Mychael O'Berry, Hoover, Ala. (79), 3 and 2
(2) Elaine Wood, Spanish Fort, Ala. (74) def. (15) Heather Nail, Hartselle, Ala. (80), 3 and 2
(10) Karlee Allen, Berry, Ala. (79) def. (7) Hallie Rice, Montgomery, Ala. (77), 7 and 6
(14) Theresa Mahlik, Madison, Ala. (80) def. (3) Jordan Susce, Birmingham, Ala. (74), 1 up
(6) Beth Ann Compton, Hartselle, Ala. (76) def. (11) Grayson Gladden, Helena, Ala. (79), 2 and 1
Quarterfinal
(9) Jesse Lawley, Rainbow City, Ala. (78) def. (16) Molly Norris, Winfield, Ala. (80), 6 and 5
(4) Virginia Green, Point Clear, Ala. (75) def. (5) Morgan Natale, Birmingham, Ala. (76), 1 up
(2) Elaine Wood, Spanish Fort, Ala. (74) def. (10) Karlee Allen, Berry, Ala. (79), 3 and 2
(14) Theresa Mahlik, Madison, Ala. (80) def. (6) Beth Ann Compton, Hartselle, Ala. (76), 3 and 2
Championship First Flight
Round of 16
(1) Holly Robinson, Birmingham, Ala. (81) def. (Bye), By Default
(8) Layne Dyar, Anniston, Ala. (87) def. (9) Stephenie Fowler, Tuscaloosa, Ala. (87), 3 and 1
(4) Heather Gillenwaters, Madison, Ala. (82) def. (13) Brooklyn Terry, Muscle Shoals, Ala. (90), 6 and 5
(12) Katelyn Gilmore, Muscle Shoals, Ala. (90) def. (5) Ryan MacVicar, Tuscaloosa, Ala. (83), 1 up
(2) Elle Patterson, Fort Payne, Ala. (81) def. (15) Katelyn Wood, Gulf Shores, Ala. (98), 5 and 4
(10) Alexis Berger, Alabaster, Ala. (88) def. (7) Nancy Schlich, Auburn, Ala. (86), 4 and 3
(3) Ashley Crane, Pike Road, Ala. (82) def. (14) Raegan Thompson, Anniston, Ala. (91), 2 up
(6) Jordan Gregoria, Alexandria, Ala. (85) def. (11) Morgan Mayfield, Alexandria, Ala. (89), 5 and 4
Quarterfinal
(1) Holly Robinson, Birmingham, Ala. (81) def. (8) Layne Dyar, Anniston, Ala. (87), 2 and 1
(4) Heather Gillenwaters, Madison, Ala. (82) def. (12) Katelyn Gilmore, Muscle Shoals, Ala. (90), 23 holes
(10) Alexis Berger, Alabaster, Ala. (88) def. (2) Elle Patterson, Fort Payne, Ala. (81), 2 and 1
(3) Ashley Crane, Pike Road, Ala. (82) def. (6) Jordan Gregoria, Alexandria, Ala. (85), 5 and 4
Championship Consolation
Quarterfinal
(1) LeeAnn Cahoon, Prattville, Ala. (71) def. (8) Ashton Maddaloni, Eclectic, Ala. (78), 1 up
(13) Sophie Burks, Montgomery, Ala. (79) def. (12) Mychael O'Berry, Hoover, Ala. (79), 2 and 1
(15) Heather Nail, Hartselle, Ala. (80) def. (7) Hallie Rice, Montgomery, Ala. (77), 3 and 2
(3) Jordan Susce, Birmingham, Ala. (74) def. (11) Grayson Gladden, Helena, Ala. (79), 5 and 4
Championship First Flight Consolation
Quarterfinal
(9) Stephenie Fowler, Tuscaloosa, Ala. (87) def. (Bye), By Default
(5) Ryan MacVicar, Tuscaloosa, Ala. (83) def. (13) Brooklyn Terry, Muscle Shoals, Ala. (90), 3 and 1
(7) Nancy Schlich, Auburn, Ala. (86) def. (15) Katelyn Wood, Gulf Shores, Ala. (98), 19 holes
(14) Raegan Thompson, Anniston, Ala. (91) def. (11) Morgan Mayfield, Alexandria, Ala. (89), 5 and 4
Tournament First Flight
Semifinal
(1) Candy Mitchell, Springville, Ala. (83) def. (4) Sharon Kellum, Leeds, Ala. (91), 6 and 4
(2) Lynn Glover, Birmingham, Ala. (84) def. (3) Laura Ulz, Houston, Ala. (88), 5 and 4
Tournament Second Flight
Semifinal
(1) Diane Sartain, Jasper, Ala. (92) def. (4) Susan McDaniel, Hoover, Ala. (103), 19 holes
(2) Keri Rutledge, Birmingham, Ala. (95) def. (3) Sue Arroyo, Athens, Ala. (101), 2 and 1
Friday Starting Times
All Matches Starting on Tee: 1
Championship – Semifinal
Time Seed Player A Seed Player B
8:00 am 9 Jesse Lawley, Rainbow City, Ala. (78) vs. 4 Virginia Green, Point Clear, Ala. (75)
8:09 am 2 Elaine Wood, Spanish Fort, Ala. (74) vs. 14 Theresa Mahlik, Madison, Ala. (80)
Championship First Flight -- Semifinal
Time Seed Player A Seed Player B
8:18 am 1 Holly Robinson, Birmingham, Ala. (81) vs. 4 Heather Gillenwaters, Madison, Ala. (82)
8:27 am 10 Alexis Berger, Alabaster, Ala. (88) vs. 3 Ashley Crane, Pike Road, Ala. (82)
Championship Consolation -- Semifinal
Time Seed Player A Seed Player B
8:36 am 1 LeeAnn Cahoon, Prattville, Ala. (71) vs. 13 Sophie Burks, Montgomery, Ala. (79)
8:45 am 15 Heather Nail, Hartselle, Ala. (80) vs. 3 Jordan Susce, Birmingham, Ala. (74)
Championship First Flight Consolation -- Semifinal
Time Seed Player A Seed Player B
8:54 am 9 Stephenie Fowler, Tuscaloosa, Ala. (87) vs. 5 Ryan MacVicar, Tuscaloosa, Ala. (83)
9:03 am 7 Nancy Schlich, Auburn, Ala. (86) vs. 14 Raegan Thompson, Anniston, Ala. (91)
Tournament First Flight – Final
Time Seed Player A Seed Player B
9:12 am 1 Candy Mitchell, Springville, Ala. (83) vs. 2 Lynn Glover, Birmingham, Ala. (84)
Tournament Second Flight -- Final
Time Seed Player A Seed Player B
9:21 am 1 Diane Sartain, Jasper, Ala. (92) vs. 2 Keri Rutledge, Birmingham, Ala. (95)
Tournament First Flight – Final
Time Seed Player A Seed Player B
9:30 am 4 Sharon Kellum, Leeds, Ala. (91) vs. 3 Laura Ulz, Houston, Ala. (88)
Tournament Second Flight Consolation - Final
Time Seed Player A Seed Player B
9:39 am 4 Susan McDaniel, Hoover, Ala. (103) vs. 3 Sue Arroyo, Athens, Ala. (101)