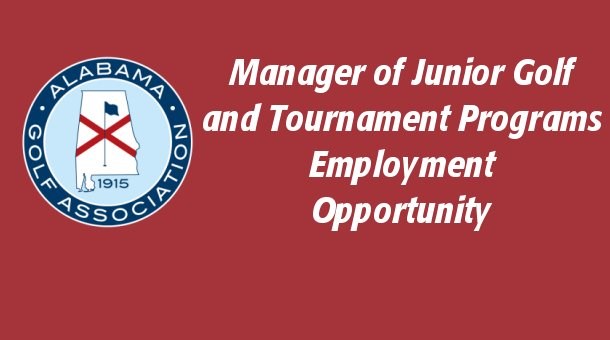 EMPLOYMENT OPPORTUNITY
Position: Manager of Junior Golf and Tournament Programs
Job Summary: Exciting opportunity to join the Alabama Golf Association (AGA) in a newly created full-time position to manage relationships between the AGA and allied junior golf organizations, assist with administering AGA championships and USGA qualifiers, create and manage future one-day tournament and Interclub programs.
Start Date: March 1, 2017 (flexible)
Location: Birmingham, AL
Reports To: Executive Director
Requirements:
Passionate and motivated individual seeking a career in golf administration focusing on junior golf
Previous experience in golf administration (minimum of an internship with an SRGA or PGA section)
Rules of Golf knowledge and on-course officiating experience preferred
Ability to learn and use job-related software programs including: Microsoft Word, Excel, PowerPoint, Publisher, Outlook, and USGA handicap and tournament management products (TPP)
Strong organizational, time-management, problem solving skills with the ability to work independently and in a team environment
Outgoing personality with strong written, verbal and public-relations skills
Experience with social media and website content management preferred
Calligraphy/lettering writing skills a plus
Ability and willingness to travel including overnight and weekends (approx. 75 days annually)
College degree or equivalent (i.e. military service)
Ability to live in the Birmingham, AL area
Responsibilities:
Serve as the point person between the AGA and allied golf organizations in Alabama and Southeast for junior golf related information
Develop and oversee newly created junior golf ranking system for boys and girls used to determine Players of the Year and Southern Junior Cup team selections
Manage Alabama Junior Golf Schedule and junior golf section content on the AGA website
Create and coordinate "Junior Golf" and "College Golf" information seminars
Assist with developing, scheduling and managing one-day tournament and Interclub program for 2018 implementation
Assist with the administration of AHSAA and AISA High School Golf Championships
Assist with tournament administration at AGA junior championships, select AGA championships and USGA qualifying including marking and setting up golf course, drafting local rules and notice to players, starting, officiating, scoring, live scoring and managing volunteers
Perform pre-tournament and on-site tournament media duties including updating social media, disseminating press releases and tournament results
Assist Director of Women's Golf with Women's Scholarship Fund activities
Assist with converting member clubs to new tournament and handicap platform for 2018
General office administrative tasks (answer phone calls, email requests) and other duties as assigned by director-level staff
Compensation and Benefits:
Salary Range $30,000-$34,000 based upon experience and qualifications with annual salary review
Paid Time Off (PTO) (vacation/sick leave), paid holidays and generous off-season work schedule
Employer Paid Medical for Employee, Dental, 401k plan, Long-Term Disability, Life Insurance
Paid cell phone plan (upon transfer of phone number to company Verizon plan) and laptop computer
Association provided apparel (Polo Ralph Lauren)
Golf privileges at local country club
Use of company vehicle and credit card for travel and expenses
Professional training seminars (e.g., USGA Rules Seminars, IAGA Conference)
Application Deadline: January 23, 2017
To Apply: Send cover letter, resume and three professional references to Andy Priest, Executive Director at /Blog/176487/Employment-Opportunity-Manager-of-Junior-Golf-and-Tournament-Programs with "Manager of Junior Golf and Tournament Programs" in subject line.
The Alabama Golf Association is an Equal Opportunity Employer
About the Alabama Golf Association (AGA)
The Alabama Golf Association is a 501(c)(3) not-for-profit educational organization founded in 1915 whose mission is to serve and promote amateur golf in Alabama. AGA membership consists of over 130 member clubs represented by nearly 18,500 individuals. The activities and services of the Alabama Golf Association are governed by a Board of Directors consisting of Alabama golfers who wish to serve the game and the association through service.
Based in Birmingham, the AGA is the USGA's liaison for golf in Alabama conducting national championship qualifying, administering the USGA Handicap system including the GHIN Handicap service, course & slope rating and education. The AGA annually conducts 12 championships and team match competitions for men, women, juniors, and seniors. The AGA also conducts Alabama high school golf championships and assists with many collegiate events including the SEC Men's Golf Championship. In addition to competitions, the AGA administers the AGA Women's Scholarship Fund that is dedicated to assisting young female golfers in higher education and supports the Alabama Turfgrass Research Foundation. In 2016, the AGA earned the Gold Tee Award for "Outstanding Tournament Operations – Small Association" by the International Association of Golf Administrators (IAGA).

Since 1980, the AGA has managed the affairs of the Southern Golf Association which includes conducting the Southern Amateur Championship and Southern Junior Championship, in conjunction with the Board of Directors of the Southern Golf Association.
For more information about the Alabama Golf Association, visit www.alabamagolf.org.