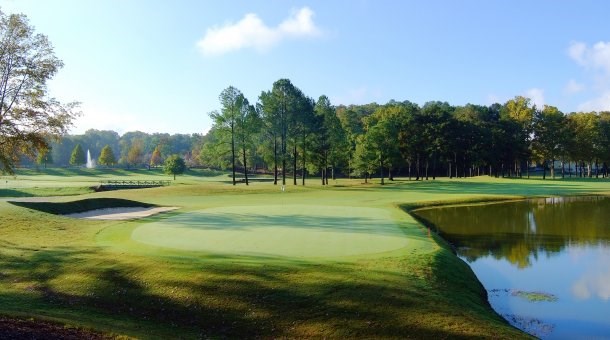 Hoover Country Club's Par 4 7th Hole
BIRMINGHAM, AL (May 17, 2017) – The best senior amateurs in the state will play across town from the best senior professionals in the world (Regions Tradition at Greystone) this weekend when the 20th Alabama State Senior Amateur Championship heads to Hoover Country Club in Hoover, AL from May 19-21, 2017.
Hoover Country Club previously hosted the State Senior Amateur Championship in 2004 with Sam Farlow of Birmingham winning the last of his five consecutive titles. Farlow went on to win a total of six times (1998, 2000-2004), giving him the most titles in the Alabama State Senior Championship history.
Hoover Country Club was established in 1959 and redesigned in 2010 by Bill Bergin. The golf course resides in a wooded landscape with rolling hills located in the Green Valley-Star Lake area. Course renovations were completed in 2011 with the redesign of all tees, greens, fairways, lakes and bunkers.
102 total players from across the state are scheduled to play in this year's championship including defending champions Bryan Askew of Decatur (Overall Champion) and Ron Aldy of Tuscaloosa (Super Senior Champion). Bryan Askew won the title last year with a two-under 211 total at Huntsville Country Club in Huntsville that edged Del Wood III of Vestavia Hills by two strokes. Aldy posted a five-over 218 to win the Super Senior title by two shots over Wayne Gardner of Mobile.
Past champions in the field include: Bryan Askew of Decatur (2016); David Hancock of Greenville (2015); Steve Hudson of Birmingham (2011, 14); Emile Vaughan of Pike Road (2007, 13); Tom Jungkind of Hoover (2012); Ralph Mathews of Andalusia (2010); Don Blanton of Selma (2009); Richard Jeffers of Mobile (2005).
Championship Facts
Event: 20th Alabama State Senior Amateur Championship
Playing Dates: May 19-21, 2017
Host Site: Hoover Country Club, Hoover, AL
Yardage: 50-64 divisions: 6,563; 65+ division: 5,858
Course/Slope Rating: 50-64 divisions 71.4/132; 65+ division 67.8/126
2016 Champion: Bryan Askew (211)
Format: 54 holes of stroke play. After 36 holes, the field will be cut to the low 48 players and ties in the Championship Division and the low 12 players and ties in the 65+ Division. For the purpose of applying the cut, the 50-56 and 57-64 Age Divisions will be treated as one division (overall).
Eligibility: Any male amateur golfer, age 50+ as of May 19, 2017, who is a legal resident of Alabama, and has an active GHIN® USGA Handicap Index® at an AGA member club of 10.4 (15.4 or less for players 65+).
Schedule of Rounds
Thursday, May 18
Registration & Practice Rounds
Friday, May 19
Round 1: Tee times at 7:30am & 12:30pm off #1 & #10 tees. 18 holes of Stroke Play
Saturday, May 20
Round 2: Tee times begin at 7:30am & 12:30pm off #1 & #10 tees. 18 holes of Stroke Play
Field cut to low 48 players and ties (Championship) and low 12 players and ties (Super Senior).
Field re-grouped according to score.
Sunday, May 21
Final Round: Tee times begin at 7:30am off #1 & #10 tees. 18 holes of Stroke Play
Scoring & Results (*9 Hole scoring updates throughout the championship)
This championship is conducted by the Alabama Golf Association.
About the Alabama Golf Association (AGA)
The Alabama Golf Association is a 501(c)(3) not-for-profit educational organization founded in 1915 whose mission is to serve and promote amateur golf in Alabama. AGA membership consists of over 130 member clubs represented by nearly 18,500 individuals. The activities and services of the Alabama Golf Association are governed by a Board of Directors consisting of Alabama golfers who wish to serve the game and the association through service.
AGA is the USGA's liaison for golf in Alabama conducting national championship qualifying, administering the USGA Handicap system including the GHIN Handicap service, course & slope rating and education. The AGA annually conducts 12 championships and team match competitions for men, women, juniors, and seniors. The AGA also conducts Alabama high school golf championships and assists with many collegiate events including the SEC Men's Golf Championship. In addition to competitions, the AGA administers the AGA Women's Scholarship Fund that is dedicated to assisting young female golfers in higher education and supports the Alabama Turfgrass Research Foundation.

Since 1980, the AGA has managed the affairs of the Southern Golf Association which includes conducting the Southern Amateur Championship and Southern Junior Championship, in conjunction with the Board of Directors of the Southern Golf Association.
For more information about the Alabama Golf Association, visit www.alabamagolf.org.