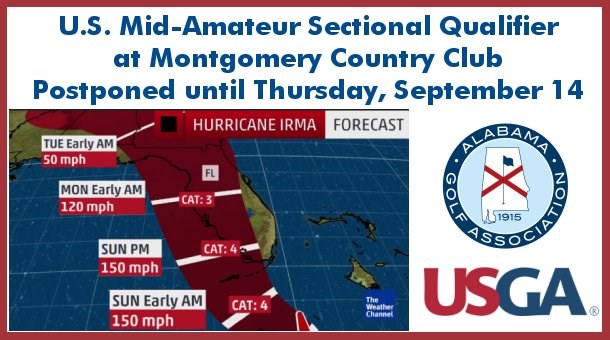 HOOVER, AL (September 9, 2017) - Due to the potential impact of Hurricane Irma over the next few days, we are postponing the U.S. Mid-Amateur Sectional Qualifier originally scheduled for Monday, September 11 at Montgomery Country Club. Qualifier has been moved to Thursday, September 14 at Montgomery Country Club.
Starting times will remain the same and you may view them at this link: https://www.ghintpp.com/bamagolf/TPPOnlineScoring/Pairings.aspx?id=353
If you need to withdraw from the qualifier, please do so officially with the USGA online: http://champwithdrawals.usga.org/. Also notify the AGA via our Contact Us page.
We hope everyone stays safe through the storm!
Alabama Golf Association