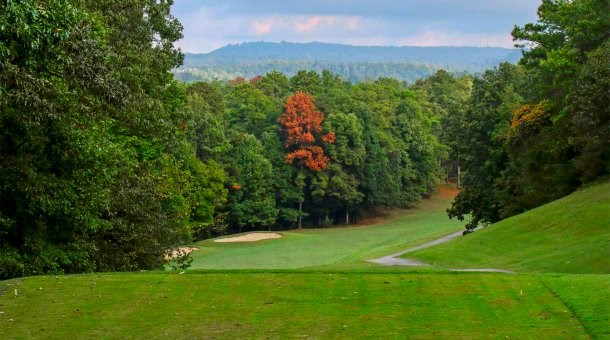 Riverchase Country Club's rolling terrain will challenge each team
HOOVER, AL (October 11, 2017) - Riverchase Country Club in Birmingham will host the Alabama State Senior Four-Ball Championship for the second time from October 13-15, 2017. Don Blanton of Selma and Sam Farlow of Birmingham took the title when last played at Riverchase in 2006.
40 teams are scheduled to compete in the 23rd edition of this championship over 54 holes of four-ball stroke play without a cut. 36 teams are vying for the overall championship title while four teams will compete for the Super Senior crown.
Last year, Mike Greer of Birmingham and Tom Jungkind of Hoover captured a record fourth title at Ol' Colony Golf Complex in Tuscaloosa firing a 19-under par total of 197. The Championship was first played in 1995 with Tom O'Melia and John Pryor winning the inaugural event at Cotton Creek Club.
The defending champions Greer and Jungkind are again competing in this year's event. Steve Hudson of Birmingham (#1 ranked senior amateur in Alabama) and Claud Cooper of Birmingham (2017 U.S. Senior Open and U.S. Senior Amateur participant) is another notable duo to follow.
In the event of a tie for first place in the Championship or Super Senior divisions, a hole-by-hole play-off will be held immediately following play. Initial groupings are set for the first two days; the field will be re-paired by score after the second round.
Starting Times & Scoring Website
https://www.ghintpp.com/bamagolf/TPPOnlineScoring/Default.aspx?id=346
Championship Schedule
Thursday, October 12
Practice rounds all day.
9:00am-4:00pm: Player Registration in the Golf Shop.
Friday, October 13
Round 1: Tee times begin at 8:00am off #1 & #10 tees.
Saturday, October 14
Round 2: Tee times begin at 8:00am off #1 & #10 tees.
Field re-grouped according to score.
Sunday, October 15
Round 3: Tee times at 8:00am off #1 & #10 tees.
Awards ceremony immediately following play at scoreboard.
Prizes
Awards will be presented to the Champions in both the Championship (Ages 50-64) and Super Senior (Ages 65+) divisions. Merchandise prizes will be awarded to the top finishers in each division. Championship Division winners will have their name engraved on the Bob Phillips Trophy and may take possession of the trophy for the ensuing year.
Riverchase Country Club Information
Head Golf Professional: John Carney
Course Superintendent: Todd Daniel
Physical Address: 2000 Club Rd, Birmingham, AL 35244
Club Website: http://www.riverchasecc.com/
Golf Shop Phone: 205 988-4140
Golf Shop Hours: Wednesday through Monday from 8:00am – 6:00pm
Practice Facility Hours: 7:30am-7:00pm
Food & Beverage Hours: 7:00am-7:00pm
Championship Yardage & Course/Slope Rating: 6479 yards, par 36-36—72 (70.5/126)
65+ Division Yardage & Course/Slope Rating: 5835 yards, par 36-36--72 (67.8/116)
Course Architect: Jerry Pate
Course Turfgrass: Tees/Fairways, Rough (419 Bermuda); Putting Greens (A-1 Bent)
Championship History
https://anyflip.com/dvfd/gymf/
About the Alabama Golf Association (AGA)
The Alabama Golf Association is a 501(c)(3) not-for-profit educational organization founded in 1915 whose mission is to serve and promote amateur golf in Alabama. AGA membership consists of over 130 member clubs represented by nearly 18,500 individuals. The activities and services of the Alabama Golf Association are governed by a Board of Directors consisting of Alabama golfers who wish to serve the game and the association through service.
AGA is the USGA's liaison for golf in Alabama conducting national championship qualifying, administering the USGA Handicap system including the GHIN Handicap service, course & slope rating and education. The AGA annually conducts 12 championships and team match competitions for men, women, juniors, and seniors. The AGA also conducts Alabama high school golf championships and assists with many collegiate events including the SEC Men's Golf Championship. In addition to competitions, the AGA administers the AGA Women's Scholarship Fund that is dedicated to assisting young female golfers in higher education and supports the Alabama Turfgrass Research Foundation.

Since 1980, the AGA has managed the affairs of the Southern Golf Association which includes conducting the Southern Amateur Championship and Southern Junior Championship, in conjunction with the Board of Directors of the Southern Golf Association.
For more information about the Alabama Golf Association, visit www.alabamagolf.org.