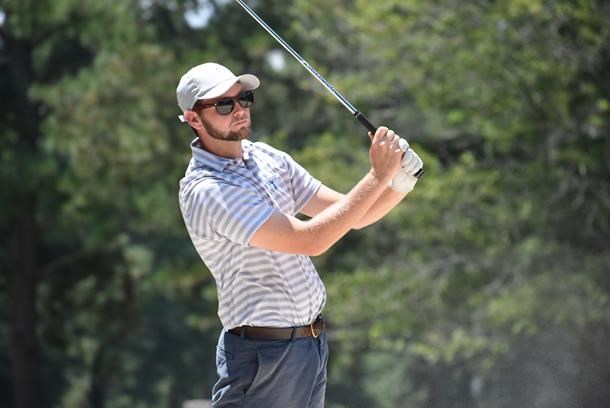 Sheldon Statkewicz went low on day two to qualify for match play as the first seed
DECATUR, Ala. – Round two results of the 18th Alabama State Match Play Championship of the Alabama Golf Association hosted by Burningtree Country Club in Decatur, Ala. on Friday, August 3, 2018 (7032 yards, par 35-36—71, 73.9/123).
The qualifying portion of the 18th Alabama State Match Play Championship concluded today with the field of 46 players being cut down to 16. Four players played off for one spot into match play with William Walker III of Tuscaloosa making it through. The cut line fell at six-over par, 148.
Sheldon Statkewicz of Mobile fired a second round five-under par, 66 to qualify for match play as first seed. Statkewicz's round included six birdies and only one bogey. His two-day total of six-under par, 136, earned him medalist honors over Clay Guerin of Hoover, Alex Green of Point Clear, and 2001 Champion Will Swift of Vestavia Hills who were 5 shots behind in second place. Statkewicz will play William Walker III in tomorrow's round of 16.
Round one leader Mac Murphy of Decatur posted a second round five-over par 76 to qualify in 6th position. His twin brother Sam Murphy also qualified for the match play following a second round 68.
Defending champion Matthew Gourgeot of Decatur made a comeback in round two with a two-under par 69. His tournament total of 147 (+5) makes him the 14th seed during match play. He will play Will Swift of Vestavia Hills tomorrow morning.
The match play round of 16 will tee off tomorrow at 7:30a.m. at Burningtree Country Club.
Round One Notes
• Four players finished the qualifying rounds under par with a round two field average score of 75.5
• 66 (-5) was the low round of the day carded by Sheldon Statkewicz
• 116 birdies and 2 eagles posted in the second qualifying round
• Easiest hole: No. 16, 547 yard par 5, 4.609 scoring average
• Hardest Hole: No. 2, 459 yard par 4, 4.783 scoring average
RELATED: Hole-by-Hole Scoring | Photo Gallery | Match Play Bracket
Visit www.alabamagolf.org for live scoring and photographs from the second day.
This championship is conducted by the Alabama Golf Association.
Round Two Results
| | | |
| --- | --- | --- |
| Place | Competitor | Score |
| 1 | Sheldon Statkewicz, Mobile, Ala. | 70-66--136 (-6) |
| T2 | Alex Green, Point Clear, Ala. | 70-71--141 (-1) |
| T2 | Clay Guerin, Hoover, Ala. | 71-70--141 (-1) |
| T2 | Will Swift, Vestavia Hills, Ala. | 70-71--141 (-1) |
| 5 | Woodie Eubanks, Oneonta, Ala. | 69-73--142 (Even) |
| T6 | Mac Murphy, Decatur, Ala. | 67-76--143 (+1) |
| T6 | Reed Love, Trussville, Ala. | 71-72--143 (+1) |
| 8 | Nick Robillard, Birmingham, Ala. | 72-72--144 (+2) |
| 9 | Sam Murphy, Decatur, Ala. | 77-68--145 (+3) |
| T10 | Harlan Winn, Birmingham, Ala. | 73-73--146 (+4) |
| T10 | Owen Burt, Millbrook , Ala. | 75-71--146 (+4) |
| T12 | Matthew Gourgeot, Decatur, Ala. | 78-69--147 (+5) |
| T12 | Victor Kyatt, Bessemer, Ala. | 74-73--147 (+5) |
| T12 | Dakota Terry, Trinity, Ala. | 75-72--147 (+5) |
| T12 | Frankie Wade, Jr, Hoover, Ala. | 75-72--147 (+5) |
| T16 | William Walker III, Tuscaloosa, Ala. | 77-71--148 (+6) (Qualified in a play off) |
| | Failed to Qualify | |
| T16 | Nicholas Welden, Birmingham, Ala. | 74-74--148 (+6) |
| T16 | Varun Yerramsetti, Vestavia Hills, Ala. | 74-74--148 (+6) |
| T16 | Corey Ray, Boaz, Ala. | 77-71--148 (+6) |
| 20 | Ethan Hagood, Hoover, Ala. | 73-76--149 (+7) |
| T21 | Zach Contris, Hokes Bluff, Ala. | 71-79--150 (+8) |
| T21 | Tee Brown, Gadsden, Ala. | 77-73--150 (+8) |
| T21 | Brandon Griffin, Hoover, Ala. | 76-74--150 (+8) |
| T21 | Conner Elder, Mobile, Ala. | 72-78--150 (+8) |
| T25 | J. Michael Riley, Mobile, Ala. | 77-74--151 (+9) |
| T25 | Matthew Burrow, Birmingham, Ala. | 75-76--151 (+9) |
| T27 | Harrison Davis, Fort Payne, Ala. | 78-74--152 (+10) |
| T27 | Jason Tate, Owens Cross Roads, Ala. | 76-76--152 (+10) |
| T29 | Brinson Holder, Point Clear, Ala. | 77-77--154 (+12) |
| T29 | Sam Jeffcoat, Birmingham, Ala. | 80-74--154 (+12) |
| 31 | Seth Foshee, Bridgeport , Ala. | 78-77--155 (+13) |
| T32 | Jake Tiffin, Guntersville, Ala. | 83-73--156 (+14) |
| T32 | John Snoddy, Birmingham, Ala. | 78-78--156 (+14) |
| T34 | Lee Davis, Daphne, Ala. | 77-80--157 (+15) |
| T34 | Raines Welden, Birmingham, Ala. | 80-77--157 (+15) |
| T36 | Wheeler Bedwell, Mobile, Ala. | 78-80--158 (+16) |
| T36 | Blake Schambeau, Hoover, Ala. | 75-83--158 (+16) |
| T36 | Ryan Mayberry, Birmingham, Ala. | 83-75--158 (+16) |
| 39 | Alex Krempa, Mobile, Ala. | 78-81--159 (+17) |
| T40 | Brett Batchelor, Madison, Ala. | 81-80--161 (+19) |
| T40 | Jordan Hartsell, Hartselle, Ala. | 84-77--161 (+19) |
| T40 | Justin Olive, Florence, Ala. | 79-82--161 (+19) |
| 43 | Jordan Smith, Florence, Ala. | 83-79--162 (+20) |
| 44 | Judson Carlton, Florence, Ala. | 80-84--164 (+22) |
| 45 | Cameron McLeod, Hoover , Ala. | 90-84--174 (+32) |
| 46 | Allen Yeilding Jr, Birmingham, Ala. | 88-93--181 (+39) |