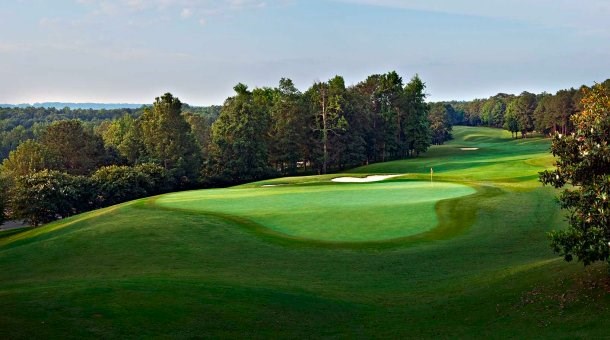 RTJ at Oxmoor Valley's Ridge Course
HOOVER, AL – The Alabama Golf Association's inaugural State Parent-Child Championship will be held at the Robert Trent Jones Golf Trail at Oxmoor Valley in Birmingham on August 6. 31 teams composed of parents and their children will play the Ridge Course on Monday.
The Alabama State Parent-Child Championship is competed over one round of modified alternate shot stroke play with both players teeing off from their designated teeing ground, selecting a ball, and then playing alternate shot until the ball is holed.
Champions will be crowned in three divisions: Father-Son (Male-Male Teams), Mixed (Male-Female Teams) and Open (Golf Professionals and Amateurs Awaiting Reinstatement). Tee times will begin at 7:30am from the first tee.
Links: STARTING TIMES | SCORING
Oxmoor Valley is one of the eleven clubs on the Robert Trent Jones Golf Trail. With three courses on site, Oxmoor Valley has something for everyone. The Ridge course, which will be hosting the championship, boasts tree-lined fairways and large elevation changes that promise to be a challenge for all involved.
Championship History & Records
This year marks the first playing of the Alabama State Parent-Child Championship.
Championship Schedule
Friday, August 3-Sunday, August 5
Tee times available for practice after 12pm
Monday, August 6
7:30 AM: Championship Round. Starting times off #1 tee
Prizes
Trophies and merchandise is awarded to the overall champion in each division and winner in each flight. Merchandise distributed to top teams in each flight. Open division merchandise is distributed based on the size of the field to both professional and amateurs. Ties for the overall champion in each division will be decided by an on-course playoff. Flight winners and ties for merchandise will be determined by a score card playoff using the USGA recommended tie-breaker method.
RTJ at Oxmoor Valley Information
Director of Golf: Anthony Land, PGA
Course Superintendent: Jeremy Waldrop
Physical Address: 100 Sunbelt Pkwy, Birmingham, AL 35211
Club Website: www.rtjgolf.com/oxmoorvalley/
Golf Shop Phone: 205-942-1177
Golf Shop Hours: 6AM-7PM
Practice Facility Hours: 6AM-6PM
Food & Beverage Hours: 6AM-8PM
Championship Yardage: Amateur Males age 14-64, Professional Males = 6200 yards;
Amateur Females 14-49, Amateur Males 65+, Professional Females = 5400 yards;
Boys 13 & under, Amateur Females 50+ = 4800 yards.
Course/Slope Rating: Amateur Males 14-64; Professional Males: 70.3/13
Amateur Females 14-50; Amateur Males 65+; Professional Females: 71.1/124
Amateur Boys 13 & under; Amateur Females 50+: 64.3/119-68.4/120
Course Turfgrass: Tees/Fairway/Rough (Bermuda); Putting Greens (A1/A4 Bent)
About the Alabama Golf Association (AGA)
The Alabama Golf Association is a 501(c)(3) not-for-profit educational organization founded in 1915 whose mission is to serve and promote amateur golf in Alabama. AGA membership consists of over 130 member clubs represented by nearly 18,500 individuals. The activities and services of the Alabama Golf Association are governed by a Board of Directors consisting of Alabama golfers who wish to serve the game and the association through service.
AGA is the USGA's liaison for golf in Alabama conducting national championship qualifying, administering the USGA Handicap system including the GHIN Handicap service, course & slope rating and education. The AGA annually conducts 13 championships and team match competitions for men, women, juniors, and seniors. The AGA also conducts Alabama high school golf championships and assists with many collegiate events including the SEC Men's Golf Championship. In addition to competitions, the AGA administers the AGA Women's Scholarship Fund that is dedicated to assisting young female golfers in higher education and supports the Alabama Turfgrass Research Foundation.

Since 1980, the AGA has managed the affairs of the Southern Golf Association which includes conducting the Southern Amateur Championship and Southern Junior Championship, in conjunction with the Board of Directors of the Southern Golf Association.
For more information about the Alabama Golf Association, visit www.alabamagolf.org.