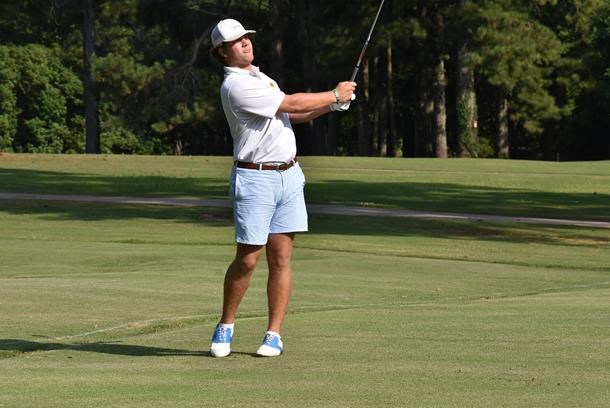 Sam Murphy defeated first seed Sheldon Statkewicz in the quarter-finals
DECATUR, Ala. – Match play results of the 18th Alabama State Match Play Championship of the Alabama Golf Association hosted by Burningtree Country Club in Decatur, Ala. on Saturday, August 4, 2018 (7032 yards, par 35-36—71, 73.9/123).
The 18th Alabama State Match Play Championship continued today with the match play portion. 16 players went head-to-head this morning in the round of 16 with eight players surviving to play in this afternoon's quarter-finals.
A.M. Results
In the morning round of 16, first seed Sheldon Statkawicz of Mobile defeated sixteenth seed William Walker III on the eighteenth hole. The very close match saw Statkewicz hold the lead for most of the round, however a bogey at hole 15 squared the match with three holes to go. Statkewicz birdied hole 17 to go one up with one hole to go and par was good enough on the 18th to send him through to the quarter-finals.
Fourth seed Alex Green of Point Clear fell at the first hurdle and was defeated by Frankie Wade Jr. of Hoover. Wade Jr. won holes 15 and 16 to claim a 3 and 2 victory.
The largest win of the morning round went to Woodie Eubanks of Oneonta who defeated Dakota Terry of Trinity 4 and 3. Eubanks was three-under par for the 15 holes played.
Defending champion Matthew Gourgeot was defeated by 2001 champion Will Swift of Vestavia Hills. Swift won five holes on his way to a 2 and 1 victory.
P.M. Results
In the afternoon quarterfinals, Burningtree Country Club member Sam Murphy took down first seed Sheldon Statkewicz 3 and 2. One up at the turn, Murphy won with birdies at both holes 10 and 11 on his way to defeating Statkewicz.
Sam Murphy's twin brother, Mac Murphy was also victorious in his quarter-final match. Murphy defeated Will Swift 3 and 1 to book his place in the semi-final.
The second quarter-final match saw Frankie Wade Jr. of Hoover defeat Woodie Eubanks of Oneonta 3 and 1. Wade won holes 14, 16, and 17 to claim victory.
Harlan Winn of Birmingham made an impressive comeback against Victor Kyatt of Bessemer to win in 19 holes. Despite being three down through eleven, Winn fought back to stand on the 18th tee one up. A wayward tee shot cost him a bogey against Kyatt's par, sending them to extra holes. A three putt from Kyatt on the extra hole gave him one too many shots and Winn took the final spot in the semi-final.
Tomorrow's semi-finals will see Sam Murphy play Frankie Wade Jr. and Harlan Winn play Mac Murphy. Tee times begin at 7:30a.m.
RELATED: Photo Gallery | Match Play Bracket
Visit www.alabamagolf.org for live scoring and photographs from the third day.
This championship is conducted by the Alabama Golf Association.
Results
Round of 16
(1) Sheldon Statkewicz, Mobile, Ala. def. (16) William Walker III, Tuscaloosa, Ala., 1 up
(8) Sam Murphy, Decatur, Ala. def. (9) Nick Robillard, Birmingham, Ala., 3 and 2
(13) Frankie Wade, Jr, Hoover, Ala. def. (4) Alex Green, Point Clear, Ala., 3 and 2
(5) Woodie Eubanks, Oneonta, Ala. def. (12) Dakota Terry, Trinity, Ala., 4 and 3
(15) Victor Kyatt, Bessemer, Ala. def. (2) Clay Guerin, Hoover, Ala., 1 up
(10) Harlan Winn, Birmingham, Ala. def. (7) Reed Love, Trussville, Ala., 4 and 2
(3) Will Swift, Vestavia Hills, Ala. def. (14) Matthew Gourgeot, Decatur, Ala., 2 and 1
(6) Mac Murphy, Decatur, Ala. def. (11) Owen Burt, Millbrook , Ala., 3 and 2
Quarter-Finals
(8) Sam Murphy, Decatur, Ala. def. (1) Sheldon Statkewicz, Mobile, Ala., 3 and 2
(13) Frankie Wade, Jr, Hoover, Ala. def. (5) Woodie Eubanks, Oneonta, Ala., 3 and 1
(10) Harlan Winn, Birmingham, Ala. def. (15) Victor Kyatt, Bessemer, Ala., 19 holes
(6) Mac Murphy, Decatur, Ala. def. (3) Will Swift, Vestavia Hills, Ala., 3 and 1