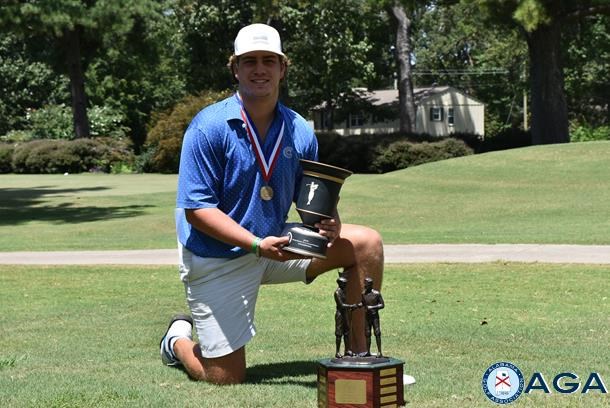 Sam Murphy defeated Harlan Winn 6 and 5 to win the 18th Alabama State Match Play Championship
DECATUR, Ala. – Final results of the 18th Alabama State Match Play Championship of the Alabama Golf Association hosted by Burningtree Country Club in Decatur, Ala. on Sunday, August 5, 2018 (7032 yards, par 35-36—71, 73.9/123).
The 18th Alabama State Match Play Championship concluded today where Sam Murphy of Decatur defeated Harlan Winn of Birmingham 6 and 5 in the final match.
A.M. Results
In the morning semi-finals, 8th seed Sam Murphy of Decatur defeated 13th seed Frankie Wade Jr. of Hoover 2 and 1. Murphy was four up through 11 holes however faced a comeback from Wade with the match going to all-square through 15 holes. Birdies on 16 and 17 gave Murphy the victory and a spot in the final.
In the match behind, Sam Murphy's brother, Mac Murphy, fell to Harlan Winn of Birmingham. Winn made a long eagle putt on the par 5 13th to go four up with five holes to go. Despite Murphy winning both the 15th and 16th holes, Winn held on to take a 2 and 1 victory.
P.M. Results
The afternoon final saw Sam Murphy, a member of Burningtree Country Club, play Harlan Winn of Birmingham for the championship title. Murphy got off to a quick start winning four of the first five holes to be four up through eight. Winn held on, halving with pars on eight, nine, and ten, however soon ran out of holes. Murphy made par on the 13th hole to claim a 6 and 5 victory.
RELATED: Photo Gallery | Match Play Bracket
Visit www.alabamagolf.org for live scoring and photographs from the final day.
This championship is conducted by the Alabama Golf Association.
Results
Semi-Finals
(8) Sam Murphy, Decatur, Ala. def. (13) Frankie Wade, Jr, Hoover, Ala. 2 and 1
(10) Harlan Winn, Birmingham, Ala. def. (6) Mac Murphy, Decatur, Ala. 2 and 1
Finals
(8) Sam Murphy, Decatur, Ala. def. (10) Harlan Winn, Birmingham, Ala. 6 and 5