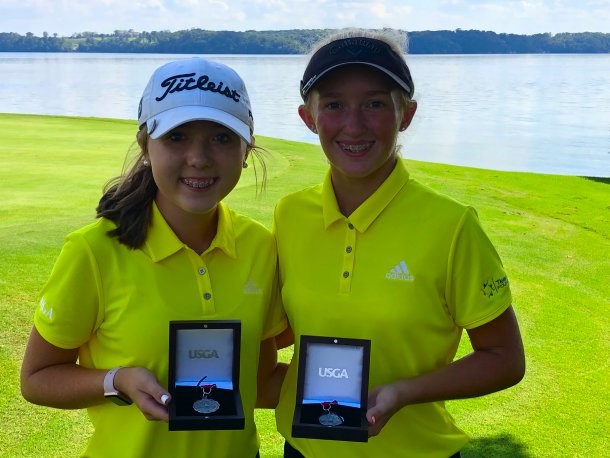 Sophie Linder and Karoline Tuttle
KILLEN, Ala. – Final results from U.S. Women's Amateur Four-Ball Championship sectional qualifying hosted by Turtle Point Yacht & Country Club in Killen, AL on Wednesday, October 3, 2018 (6059 yards, par 36-36—72, Rating: 74.9/130).
One qualifying spot and two alternate positions were available at this qualifying site.
Sophie Linder of Carthage, Tenn. and Karoline Tuttle of Lake Mary, Fla. survived a three-hole playoff over Elisabeth Preus of Auburn, Ala. and Ally Williams of Athens, Ala. to secure the lone qualifying spot. Preus and Williams are first alternate.
Lea Green of McCalla, Ala. and Linda Jeffery of Prattville, Ala. took the second alternate position in a one-hole playoff over Erin Packer and Aude Stewart of Peachtree City, Ga.
The 5th United States Women's Amateur Four-Ball Championship will be played at Timuquana Country Club in Jacksonville, FL from April 27-May 1, 2019.
Hole-by-hole scoring: https://www.ghintpp.com/bamagolf/TPPOnlineScoring/ResultsStroke.aspx?id=428
This qualifier was conducted by the Alabama Golf Association on behalf of the United States Golf Association.
Final Results
| | | |
| --- | --- | --- |
| Place | Team | Score |
| | Qualified | |
| T1 | Sophie Linder, Carthage, Tenn. - Karoline Tuttle, Lake Mary, Fla. | 34-33--67 (-5) |
| | Alternates | |
| T1 | (1st Alt) Elisabeth Preus, Auburn, Ala. - Ally Williams, Athens, Ala. | 33-34--67 (-5) |
| T3 | (2nd Alt) Lea Green, McCalla, Ala. - Linda Jeffery, Prattville, Ala. | 35-36--71 (-1) |
| | Failed to Qualify | |
| T3 | Erin Packer, Peachtree City, Ga. - Aude Stewart, Peachtree City, Ga. | 37-34--71 (-1) |
About the Alabama Golf Association (AGA)
The Alabama Golf Association is a 501(c)(3) not-for-profit educational organization founded in 1915 whose mission is to serve and promote amateur golf in Alabama. AGA membership consists of over 130 member clubs represented by nearly 18,500 individuals. The activities and services of the Alabama Golf Association are governed by a Board of Directors consisting of Alabama golfers who wish to serve the game and the association through service.
AGA is the USGA's liaison for golf in Alabama conducting national championship qualifying, administering the USGA Handicap system including the GHIN Handicap service, course & slope rating and education. The AGA annually conducts 13 championships and team match competitions for men, women, juniors, and seniors. The AGA also conducts Alabama high school golf championships and assists with many collegiate events including the SEC Men's Golf Championship. In addition to competitions, the AGA administers the AGA Women's Scholarship Fund that is dedicated to assisting young female golfers in higher education and supports the Alabama Turfgrass Research Foundation.

Since 1980, the AGA has managed the affairs of the Southern Golf Association which includes conducting the Southern Amateur Championship and Southern Junior Championship, in conjunction with the Board of Directors of the Southern Golf Association.
For more information about the Alabama Golf Association, visit www.alabamagolf.org.