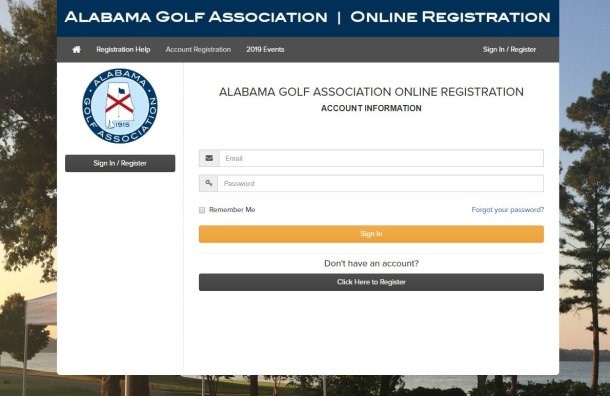 The Alabama Golf Association has upgraded to a new online registration, tournament, and rankings management platform for 2019 - USGA Tournament Management powered by Golf Genius (USGA TM).
As it is a new system, ALL AGA Tournament Participants are required to create a new user account in USGA Tournament Management prior to registering to play in their first event or to receive points in the *Alabama Golf Association Ranking System.

To create an account, please click this "Sign-In/Register" link and follow these steps:
On the Online Registration page, locate and click the Gray button at the bottom of the page labeled "Click Here to Register".
Type in your GHIN number and Last Name. (*Active GHIN number is required to create an account)
Click "Register"
Complete the required data fields denoted with a Red asterisk

*

. Each individual must have a unique email address.
Click "Register" to complete the account set-up process. A confirmation email will be sent from /admin-post-edit/id/270431
If you have any questions, contact the Alabama Golf Association at 205-979-1234 or email: /Blog/270431/Alabama-Golf-Association-Announces-New-Tournament-Registration-and-Rankings-Platform-for-2019.

​​​​​​​*Note: Men, Women, Senior Men and Senior Women rankings will start anew in 2019. As events are played this year, players and their ranking points will be populated into the new system. This will re-generate our rolling-ranking point system for the 2020 tournament season. 2019 Alabama Players of the Year and Men's Southeast Challenge Teams will be selected using the new ranking system platform.