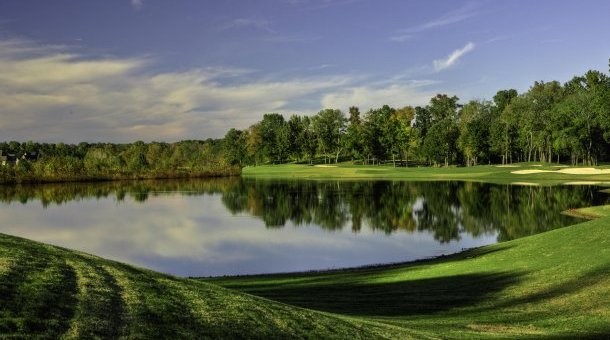 Canebrake Club
HOOVER, AL – The 19th edition of the Alabama Golf Association's State Match Play Championship will be held at Canebrake Club in Athens from August 8-11. A total of 44 players will compete for the title of State Match Play Champion.
Canebrake Club was designed by international golf course architect Ron Garl. The par 72 course has previously hosted the Alabama State Mid-Amateur Championship, the Alabama State Four-Ball Championship and the Alabama Women's Stroke Play Championship.
The Alabama State Match Play Championship format consists of two rounds of stroke play, followed by four rounds of match play after a cut. The sixteen players with the lowest aggregate score following completion of the stroke play rounds will make it through to match play. Two rounds of match play will be played each day with a champion being crowned on Sunday afternoon. Tee times will begin at 7:30am each day.
Last year's event saw Sam Murphy of Decatur defeat Harlan Winn of Birmingham in the championship final 6 and 5. Murphy qualified for the 2019 U.S. Amateur and will not return to defend his title this year.
Media Links: STARTING TIMES | LIVE SCORING | HISTORY
Championship History & Records
This year marks the 19th playing of the Alabama State Match Play Championship and the first time that Canebrake Club has hosted the State Match Play Championship. Sam Murphy of Decatur won the title in 2018 at Burningtree Country Club in Decatur. The Championship was first played in 2001 with Will Swift winning the inaugural event.
Most Titles: 2 – Patton Kizzire
Championship Schedule
Wednesday, August 7
All Day: Practice rounds.
9:00am-5:00pm: Player Registration in the Clubhouse Foyer adjacent to the golf shop.
Thursday, August 8
1st Round, 18 holes Stroke Play: Tee times at 7:30am off #1.
Friday, August 9
2nd Round, 18 holes Stroke Play: Tee times at 7:30am off #1.
Saturday, August 10
Round of 16 (AM): Tee times at 7:30am off #1.
Quarterfinals (PM): Tee time off #1 tee as match is finalized.
Sunday, August 11
Semifinals (AM): Tee times at 7:30am off #1.
Final (PM): Tee time off #1 tee as match is finalized.
Awards ceremony immediately following play at scoreboard.
Prizes
Stroke Play Qualifying Rounds:
Lowest Scoring Player for 36 Holes: Silver medal; if a tie, duplicate medals will be awarded.
Match Play:
Awards will be presented to the Champion.
Merchandise prizes are awarded to top finishers.
Champion will have his name engraved on the permanent trophy and may take possession of the trophy for the ensuing year.
Canebrake Club Information
General Manager/Director of Golf: Micky Wolfe, PGA
Course Superintendent: Ben Waide
Physical Address: 23015 Founders Circle, Athens, AL 35613
Club Website: www.canebrakeclub.com
Golf Shop Phone: 256-232-2412
Golf Shop Hours: 6:30am-7:00pm
Practice Facility Hours: 6:00am-7:00pm
Food & Beverage Hours: 8:00am-5:00pm
Championship Yardage/Course & Slope Rating: 7056 yards (36-36—72), 73.7/140
Course Turfgrass: Putting Greens (Tiffeagle), Fairways/Tees/Rough (Bermuda)
About the Alabama Golf Association (AGA)
The Alabama Golf Association is a 501(c)(3) not-for-profit educational organization founded in 1915 whose mission is to serve and promote amateur golf in Alabama. AGA membership consists of over 130 member clubs represented by nearly 18,500 individuals. The activities and services of the Alabama Golf Association are governed by a Board of Directors consisting of Alabama golfers who wish to serve the game and the association through service.
AGA is the USGA's liaison for golf in Alabama conducting national championship qualifying, administering the USGA Handicap system including the GHIN Handicap service, course & slope rating and education. The AGA annually conducts 20 championships and team match competitions for men, women, juniors, and seniors. The AGA also conducts Alabama high school golf championships and assists with many collegiate events including the SEC Men's Golf Championship. In addition to competitions, the AGA administers the AGA Women's Scholarship Fund that is dedicated to assisting young female golfers in higher education and supports the Alabama Turfgrass Research Foundation.

Since 1980, the AGA has managed the affairs of the Southern Golf Association which includes conducting the Southern Amateur Championship and Southern Junior Championship, in conjunction with the Board of Directors of the Southern Golf Association.
For more information about the Alabama Golf Association, visit www.alabamagolf.org
Facebook | Twitter | Instagram | YouTube