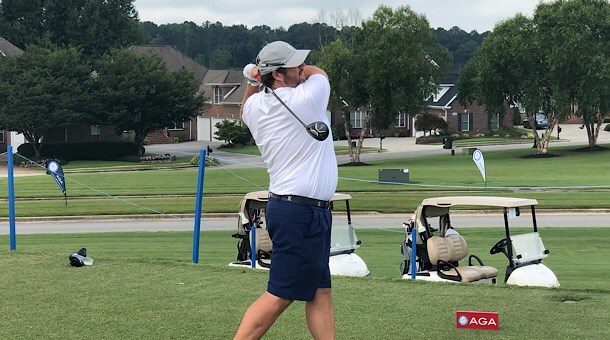 Medalist Stewart Whitt of Athens
ATHENS, Ala. – Round two results of the 19th Alabama State Match Play Championship of the Alabama Golf Association hosted by Canebrake Club in Athens, Ala. on Friday, August 9, 2019 (7056 yards, par 36-36—72, 73.7/140).
The qualifying portion of the 19th Alabama State Match Play Championship concluded today with the field of 44 players being cut down to 16. Three players played off for two spots into match play with Jason Tate of Owens Cross Roads and Charles Wood of Spanish Fort making it through. The cut line fell at one-under par, 143.
Round one leader Stewart Whitt of Athens fired a second round four-under par 68 to qualify for match play as first seed. Whitt's round included five birdies and only one bogey. His two-day total of ten-under par, 134, earned him medalist honors over last year's runner-up Harlan Winn of Birmingham who was three shots behind in second place.
The match play round of 16 will tee off tomorrow at 7:30a.m. at Canebrake Club.
Round Two Notes
• 17 players finished the qualifying rounds under par with a round two field average score of 73.7
• 67 (-5) was the low round of the day carded by both Mac Murphy and Robson Copenhaver
• 128 birdies and 8 eagles posted in the second qualifying round
• Easiest hole: No. 18, 537 yard par 5, 4.43 scoring average
• Hardest Hole: No. 8, 198 yard par 3, 3.57 scoring average
RELATED: Stroke Play Results and Match Play Bracket
Visit www.alabamagolf.org for live scoring from the second day.
This championship is conducted by the Alabama Golf Association.
Round Two Results
| | | | | | | |
| --- | --- | --- | --- | --- | --- | --- |
| Place | Player | City | To Par | R1 | R2 | Score |
| 1 | Stewart Whitt | Athens | -10 | 66 | 68 | 134 |
| 2 | Harlan Winn | Birmingham | -7 | 68 | 69 | 137 |
| 3 | Robert Davidson | Trussville | -6 | 69 | 69 | 138 |
| T4 | Ethan Hagood | Hoover | -5 | 71 | 68 | 139 |
| T4 | Mac Murphy | Decatur | -5 | 72 | 67 | 139 |
| T4 | Matt Gourgeot | Decatur | -5 | 71 | 68 | 139 |
| T7 | Dakota Terry | Trinity | -4 | 68 | 72 | 140 |
| T7 | Jackson King | Hoover | -4 | 71 | 69 | 140 |
| T7 | Reynolds Lambert | Birmingham | -4 | 70 | 70 | 140 |
| T7 | Robson Copenhaver | Scottsboro | -4 | 73 | 67 | 140 |
| T7 | Scott Weaver | Madison | -4 | 67 | 73 | 140 |
| T7 | Woodie Eubanks | Oneonta | -4 | 72 | 68 | 140 |
| T13 | James Medley | Hoover | -2 | 73 | 69 | 142 |
| T13 | Victor Kyatt | Bessemer | -2 | 72 | 70 | 142 |
| T15 | Charles Wood | Spanish Fort | -1 | 71 | 72 | 143 |
| T15 | Jason Tate | Owens Cross Roads | -1 | 70 | 73 | 143 |
| | Failed to Qualify | | | | | |
| CUT | Jackson Singletary | Alabaster | -1 | 72 | 71 | 143 |
| CUT | Brendan Keller | Huntsville | E | 70 | 74 | 144 |
| CUT | Carter Goodwin | Hoover | E | 74 | 70 | 144 |
| CUT | Connor Newton | Auburn | E | 75 | 69 | 144 |
| CUT | Jordan Plunkett | Sterrett | E | 75 | 69 | 144 |
| CUT | Ross Napier | Hartselle | E | 70 | 74 | 144 |
| CUT | Thomas Regan | Muscle Shoals | 1 | 72 | 73 | 145 |
| CUT | Brant Bishop | Muscle Shoals | 2 | 72 | 74 | 146 |
| CUT | David Baker | Harvest | 2 | 74 | 72 | 146 |
| CUT | Jim McClary | Athens | 5 | 76 | 73 | 149 |
| CUT | Johnny Komara | Huntsville | 5 | 72 | 77 | 149 |
| CUT | Nicholas Welden | Vestavia | 5 | 73 | 76 | 149 |
| CUT | Connor Reid | Opelika | 6 | 72 | 78 | 150 |
| CUT | Adam Mullins | Elkmont | 7 | 72 | 79 | 151 |
| CUT | Corey Ray | Boaz | 7 | 76 | 75 | 151 |
| CUT | Jones Brown | Birmingham | 7 | 73 | 78 | 151 |
| CUT | Nick Sparks | Decatur | 7 | 77 | 74 | 151 |
| CUT | Drew Peak | Auburn | 8 | 76 | 76 | 152 |
| CUT | Joshua Winn | Harvest | 8 | 77 | 75 | 152 |
| CUT | Brinson Holder | Point Clear | 9 | 76 | 77 | 153 |
| CUT | J. Michael Riley | Mobile | 10 | 80 | 74 | 154 |
| CUT | Randy Jones | Athens | 10 | 78 | 76 | 154 |
| CUT | Brett Baker | Hoover | 17 | 82 | 79 | 161 |
| CUT | Chris Wood | Athens | 17 | 82 | 79 | 161 |
| CUT | Harrison Sims | Homewood | 19 | 81 | 82 | 163 |
| CUT | Allen Yeilding | Birmingham | 21 | 83 | 82 | 165 |
| CUT | Andrew Cook | Madison | 22 | 81 | 85 | 166 |
| CUT | Logan Clark | Madison | 32 | 88 | 88 | 176 |