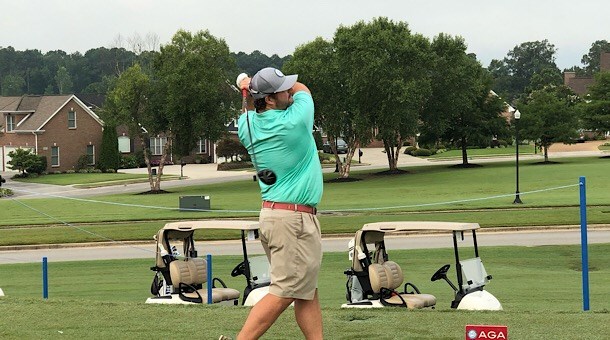 Canebrake Member Stewart Whitt
ATHENS, Ala. – Match play results of the 19th Alabama State Match Play Championship of the Alabama Golf Association hosted by Canebrake Club in Athens, Ala. on Saturday, August 10, 2019 (7056 yards, par 36-36—72, 73.7/140).
The 19th Alabama State Match Play Championship continued today with the match play portion. 16 players went head-to-head this morning in the round of 16 with eight players surviving to play in this afternoon's quarterfinals.
A.M. Results
In the morning round of 16, top seed Stewart Whitt of Athens defeated sixteenth seed Charles Wood of Spanish Fort 5 and 4. Whitt birdied hole 6 to go one up and never looked back.
Second seed Harlan Winn of Birmingham defeated Jason Tate of Owens Cross Roads 6 and 5 on his way back to the quarterfinals for a second straight year.
The biggest upset of the morning round went to fourteenth seed Vic Kyatt of Bessemer who defeated third seed Cole Davidson of Trussville 3 and 2.
P.M. Results
In the afternoon quarterfinals, Canebrake Club member Stewart Whitt continued his strong play defeating Jackson King of Hoover 5 and 4. Whitt birdied the first hole in the afternoon match and was three up at the turn. He closed King out with a birdie on hole 14.
Vic Kyatt, who eagled his last hole in the stroke play qualifying round to sneak in to the Round of 16, defeated Mac Murphy 2 and 1 to secure his spot in the semifinals tomorrow.
Ethan Hagood defeated Reynolds Lambert 2 and 1 and Harlan Winn defeated Dakota Terry 5 and 4 in the other two quarterfinal matches.
Tomorrow's semi-finals will see Stewart Whitt play Ethan Hagood and Harlan Winn play Vic Kyatt. Tee times begin at 7:30a.m.
RELATED: Match Play Bracket
Visit www.alabamagolf.org for live scoring from the third day.
This championship is conducted by the Alabama Golf Association.
Results
Round of 16
(1) Stewart Whitt, Athens, Ala. def. (16) Charles Wood, Spanish Fort, Ala, 5 and 4
(9) Jackson King, Hoover, Ala. def. (8) Robson Copenhaver, Scottsboro, Ala., 3 and 2
(4) Ethan Hagood, Hoover, Ala. def. (13) James Medley, Hoover, Ala., 4 and 3
(12) Reynolds Lambert, Birmingham, Ala. def. (5) Matt Gourgeot, Decatur, Ala., 4 and 2
(2) Harlan Winn, Birmingham, Ala. def. (15) Jason Tate, Owens Cross Roads, Ala., 6 and 5
(7) Dakota Terry, Trinity, Ala. def. (10) Scott Weaver, Madison, Ala., 5 and 4
(14) Vic Kyatt, Bessemer, Ala. def. (3) Robert Davidson, Trussville, Ala , 3 and 2
(6) Mac Murphy, Decatur, Ala. def. (11) Woodie Eubanks, Oneonta, Ala., 1 up
Quarter-Finals
(1) Stewart Whitt, Athens, Ala. def. (9) Jackson King, Hoover, Ala., 5 and 4
(4) Ethan Hagood, Hoover, Ala. def. (12) Reynolds Lambert, Birmingham, Ala., 2 and 1
(2) Harlan Winn, Birmingham, Ala. def. (7) Dakota Terry, Trinity, Ala., 5 and 4
(14) Vic Kyatt, Bessemer, Ala. def. (6) Mac Murphy, Decatur, Ala., 2 and 1