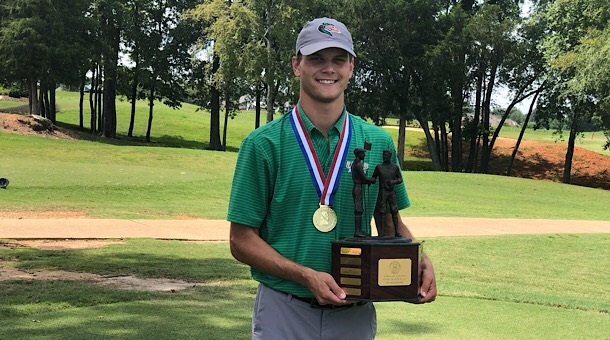 Match Play Champion Ethan Hagood of Hoover
ATHENS, Ala. – Final results of the 19th Alabama State Match Play Championship of the Alabama Golf Association hosted by Canebrake Club in Athens, Ala. on Sunday, August 11, 2019 (7056 yards, par 36-36—72, 73.7/140).
The 19th Alabama State Match Play Championship concluded today where Ethan Hagood of Hoover defeated Harlan Winn of Birmingham 2 and 1 in the final match.
A.M. Results
In the morning semifinals, fourth seed Ethan Hagood of Hoover defeated top seed Stewart Whitt of Athens 2 up. Hagood made nine birdies with no bogeys and Whitt made seven birdies with no bogeys.
In the other semifinal match, second seed Harlan Will of Birmingham defeated fourteenth seed Vic Kyatt of Bessemer 1 up. Winn plays in the final match for the second straight year.
P.M. Results
The final match pitted Hagood, a member of the UAB Golf Team, against Winn, a member of the Samford Golf Team, for the championship title. Hagood got off to a quick start with an eagle on the second hole and birdies on seven and eight to turn 2 up. Winn fought back with birdies on 12 and 16, but Hagood made par on 17th hole to claim a 2 and 1 victory.
RELATED: Match Play Bracket

Visit www.alabamagolf.org for live scoring from the final day.
This championship is conducted by the Alabama Golf Association.
Results
Semi-Finals
(4) Ethan Hagood, Hoover, Ala. def. (1) Stewart Whitt, Athens, Ala. 2 up
(2) Harlan Winn, Birmingham, Ala. def. (14) Vic Kyatt, Ala. 1 up
Finals
(4) Ethan Hagood, Hoover, Ala. def. (2) Harlan Winn, Birmingham, Ala. 2 and 1