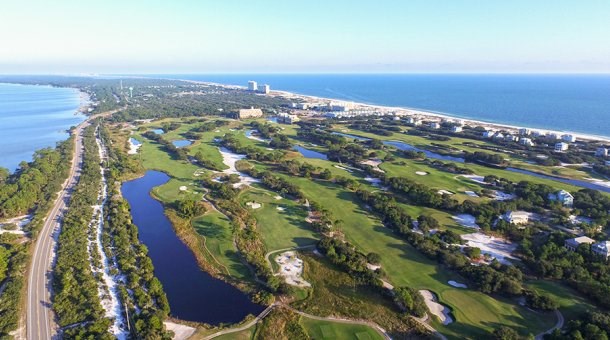 Kiva Dunes Golf Resort - Gulf Shores, AL
HOOVER, AL (August 10, 2019) – The Alabama Golf Association's first edition of the Alabama State Mixed Team Championship will be held this weekend at Kiva Dunes in Gulf Shores from November 14-15. 10 teams will travel to the beautiful gulf coast to compete this year.
The Alabama State Mixed Team Championship is competed over 36 holes using two different scoring formats. Round one is four-ball stroke play and round two is modified alternate shot stroke play with both players teeing off from their designated teeing ground, selecting a ball, and then playing alternate shot until the ball is holed.
Champions will be crowned in three divisions: Amateur, Senior Amateur and Open (Golf Professionals and Amateurs Awaiting Reinstatement playing with an amateur partner). Tee times will begin at 7:30am from the 1st tee.
Links: STARTING TIMES | SCORING
Championship Schedule
Friday, September 13
Tee times available for practice rounds.
Saturday, September 14
Championship Round 1 – 18 holes of Four-Ball Stroke Play (AM Tee Times).
Hosted lunch for all players.
Sunday, September 15
Championship Round 2 – 18 holes of Modified Alternate Shot Stroke Play (AM Tee Times).
Hosted lunch for all players.
Awards ceremony following play.
Prizes
Trophies and merchandise is awarded to the overall champion in each division and winner in each flight. Merchandise distributed to top teams in each flight. Ties for the overall champion in each division will be decided by an on-course playoff. Flight winners will be determined by a scorecard playoff using the USGA recommended tie-breaker method. All other ties for merchandise will be shared equally.
Kiva Dunes Information
Director of Golf: Mark Stillings
Course Superintendent: Zeke Mims
Physical Address: 815 Plantation Rd, Gulf Shores, AL 36542
Club Website: https://www.kivadunes.com/
Golf Shop Phone: 251-540-7000
Golf Shop Hours: 7AM-7PM
Practice Facility Hours: 7AM-6PM
Food & Beverage Hours: 6AM-8PM
Championship Yardage: Amateur Division Males; Professional/Open/Senior Division Males: 6200 yards
Senior Division Males; Amateur Division Females; Professional/Open Division Females: 5600 yards
Senior/Senior Open Division Females: 5000 yards
About Kiva Dunes
The unique, vibrant golf course at Kiva Dunes runs primarily from east to west, and has been quoted as 'very natural, with a lot of exposed sand and gnarly scrub oak.' The manicured track winds through acres of secluded, coastal greenery, sandy dunes and natural marsh that is set in a pristine conservation area in Fort Morgan of Gulf Shores, Alabama. Kiva Dunes is rife with unmatched shot-making opportunities and challenges with its location tucked in between the Gulf of Mexico and Mobile Bay.
About the Alabama Golf Association (AGA)
The Alabama Golf Association is a 501(c)(3) not-for-profit educational organization founded in 1915 whose mission is to serve and promote amateur golf in Alabama. AGA membership consists of over 130 member clubs represented by nearly 18,500 individuals. The activities and services of the Alabama Golf Association are governed by a Board of Directors consisting of Alabama golfers who wish to serve the game and the association through service.
AGA is the USGA's liaison for golf in Alabama conducting national championship qualifying, administering the USGA Handicap system including the GHIN Handicap service, course & slope rating and education. The AGA annually conducts 20 championships and team match competitions for men, women, juniors, and seniors. The AGA also conducts Alabama high school golf championships and assists with many collegiate events including the SEC Men's Golf Championship. In addition to competitions, the AGA administers the AGA Women's Scholarship Fund that is dedicated to assisting young female golfers in higher education and supports the Alabama Turfgrass Research Foundation.

Since 1980, the AGA has managed the affairs of the Southern Golf Association which includes conducting the Southern Amateur Championship and Southern Junior Championship, in conjunction with the Board of Directors of the Southern Golf Association.
For more information about the Alabama Golf Association, visit www.alabamagolf.org.