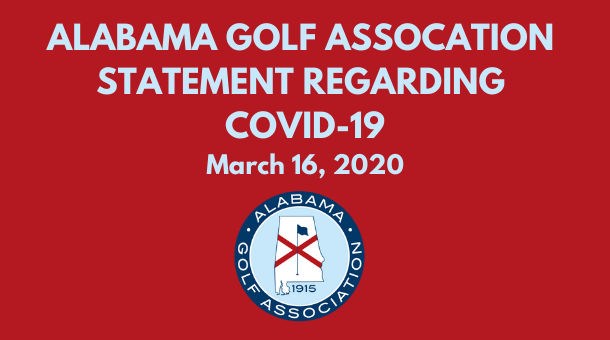 Hoover, AL (March 16, 2020) - The Alabama Golf Association encourages everyone to heed the recommended safety protocols and precautions announced by local, state and federal government officials. Not surprisingly, COVID-19 cases are now being reported throughout Alabama. Social media is a powerful platform, however, ensure the information digested is from a credible government organization account (i.e. @cdcgov, @ALPublicHealth) or website: Centers for Disease Control and Prevention (CDC); Alabama Department of Public Health.
Further, as we have proper etiquette in the game of golf, we ask everyone to extend this etiquette beyond the golf course and into your daily lives. Please be respectful of each other especially in the unprecedented times that we now face together.
Upon the latest recommendation from the CDC as of March 15, the AGA has postponed the Inaugural Women's One-Day Scramble on April 7 at NorthRiver Y&CC in Tuscaloosa to a future date (to be determined). Any players registered for this event will automatically be withdrawn and issued a full refund. Any other changes to scheduled meetings in the coming weeks will be communicated directly with those participants. A decision regarding the status of the State Four-Ball Championship and beyond events will remain a fluid situation. We appreciate your patience and understanding.
We are well aware of the severity of this situation, closely monitoring the latest CDC recommendations and will quickly announce any necessary schedule changes to ensure the health and safety of players, host club officials, volunteers and AGA staff. As a further safety precaution, the AGA staff will be working remotely.
If you have any questions, feel free to call us (205-979-1234) or contact us HERE. We will continue to keep our website (alabamagolf.org) and social media accounts updated as necessary. Safe wishes to all.
About the Alabama Golf Association (AGA)
The Alabama Golf Association is a 501(c)(3) not-for-profit educational organization founded in 1915 whose mission is to serve and promote amateur golf in Alabama. AGA membership consists of over 110 member clubs represented by over 19,000 individuals. The activities and services of the Alabama Golf Association are governed by a Board of Directors consisting of Alabama golfers who wish to serve the game and the association through service.
AGA is the USGA's Allied Golf Association to deliver core services in Alabama such as conducting national championship qualifying, administering the World Handicap System including the GHIN service, course & slope rating and education. The AGA annually conducts 23 championships and team match competitions for men, women, juniors, and seniors. The AGA also conducts Alabama high school golf championships and assists with many collegiate events including the SEC Men's Golf Championship. In addition to competitions, the AGA administers the AGA Women's Scholarship Fund that is dedicated to assisting young female golfers in higher education and supports the Alabama Turfgrass Research Foundation.

Since 1980, the AGA has managed the affairs of the Southern Golf Association which includes conducting the Southern Amateur Championship and Southern Junior Championship, in conjunction with the Board of Directors of the Southern Golf Association.
For more information about the Alabama Golf Association, visit www.alabamagolf.org.
Facebook | Twitter | Instagram | YouTube