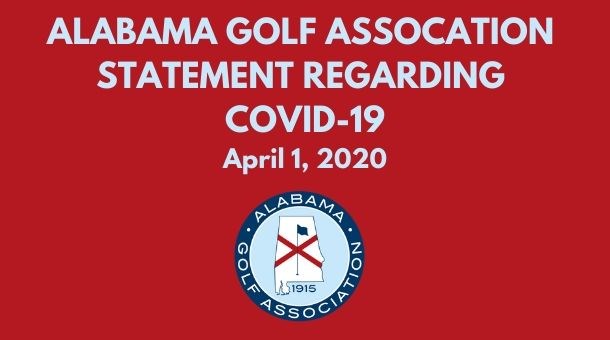 Hoover, AL (April 1, 2020) – Guided by the latest information regarding the continued spread of COVID-19 and outlook over the next 30 days, the Alabama Golf Association has postponed all events through May 18. The impacted events include:
38th Alabama State Four-Ball Championship at Lakewood Golf Club in Point Clear
23rd Alabama State Senior Amateur Championship at Wynlakes Golf & Country Club in Montgomery
2nd Alabama State Super-Senior Amateur Championship at Wynlakes Golf & Country Club in Montgomery
Any players registered for these events will automatically be withdrawn and issued a full refund. Our intention is to reschedule these three events later in the year at a future date to be determined.
Potential changes to events beyond May 18, including the Alabama State Amateur Championship, State Amateur sectional qualifying and Girls State Junior Championship, will remain a fluid situation with timely decisions made based upon the latest information and guidance from government officials. We appreciate your patience and understanding. *Note: Girls State Junior Championship registration open date delayed until April 27.
As of today, golf remains an accepted and approved outdoor recreation activity in Alabama per Governor Ivey and State Health Director - Dr. Scott Harris. Our member clubs have been implementing overarching measures to provide a safe environment for staff members, customers, members and guests. All golfers need to continue adhering to the social distancing guidelines and follow local, state and national government safety protocols. The golf industry supports whatever measures are deemed necessary by government leaders and ask everyone to comply with them for the benefit of all.
If you have any questions or concerns, please contact the AGA staff HERE. We will continue to keep our website (alabamagolf.org) and social media accounts updated as necessary. Safe and healthy wishes to all.
About the Alabama Golf Association (AGA)
The Alabama Golf Association is a 501(c)(3) not-for-profit educational organization founded in 1915 whose mission is to serve and promote amateur golf in Alabama. AGA membership consists of over 110 member clubs represented by over 19,000 individuals. The activities and services of the Alabama Golf Association are governed by a Board of Directors consisting of Alabama golfers who wish to serve the game and the association through service.
AGA is the USGA's Allied Golf Association to deliver core services in Alabama such as conducting national championship qualifying, administering the World Handicap System including the GHIN service, course & slope rating and education. The AGA annually conducts 23 championships and team match competitions for men, women, juniors, and seniors. The AGA also conducts Alabama high school golf championships and assists with many collegiate events including the SEC Men's Golf Championship. In addition to competitions, the AGA administers the AGA Women's Scholarship Fund that is dedicated to assisting young female golfers in higher education and supports the Alabama Turfgrass Research Foundation.

Since 1980, the AGA has managed the affairs of the Southern Golf Association which includes conducting the Southern Amateur Championship and Southern Junior Championship, in conjunction with the Board of Directors of the Southern Golf Association.
For more information about the Alabama Golf Association, visit www.alabamagolf.org.
Facebook | Twitter | Instagram | YouTube