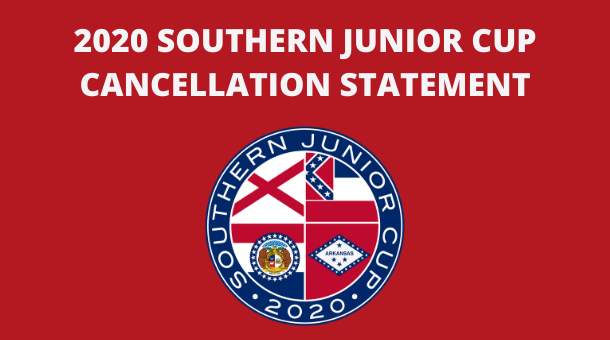 HOOVER, AL (April 7, 2020) - After careful consideration and a collaborative review, the Alabama Golf Association in conjunction with the Arkansas State Golf Association, Mississippi Golf Association, and Missouri Golf Association made the difficult decision to cancel the 2020 Southern Junior Cup scheduled for August 3-5 at Shadow Valley Country Club in Rogers, AR.
Ultimately, the challenges of rescheduling various events due to COVID-19 in an extremely compressed summer window while taking financial impacts to both families and associations into consideration led to this decision. Southern Junior Cup hosting rotation will move back one year with Arkansas hosting the 2021 event followed by Mississippi in 2022, Missouri in 2023 and Alabama in 2024.
We know the effects of this announcement will be met with some disappointment, but your understanding of the situation is greatly appreciated. Thank you for your continued support of the Southern Junior Cup and we wish you and your loved one's health and safety.
If you have any questions or need additional information, please reach out to us via phone (205.979.1234) or email jeremy@alabamagolf.org.
About the Alabama Golf Association (AGA)
The Alabama Golf Association is a 501(c)(3) not-for-profit educational organization founded in 1915 whose mission is to serve and promote amateur golf in Alabama. AGA membership consists of over 110 member clubs represented by over 19,000 individuals. The activities and services of the Alabama Golf Association are governed by a Board of Directors consisting of Alabama golfers who wish to serve the game and the association through service.
AGA is the USGA's Allied Golf Association to deliver core services in Alabama such as conducting national championship qualifying, administering the World Handicap System including the GHIN service, course & slope rating and education. The AGA annually conducts 23 championships and team match competitions for men, women, juniors, and seniors. The AGA also conducts Alabama high school golf championships and assists with many collegiate events including the SEC Men's Golf Championship. In addition to competitions, the AGA administers the AGA Women's Scholarship Fund that is dedicated to assisting young female golfers in higher education and supports the Alabama Turfgrass Research Foundation.

Since 1980, the AGA has managed the affairs of the Southern Golf Association which includes conducting the Southern Amateur Championship and Southern Junior Championship, in conjunction with the Board of Directors of the Southern Golf Association.
For more information about the Alabama Golf Association, visit www.alabamagolf.org.