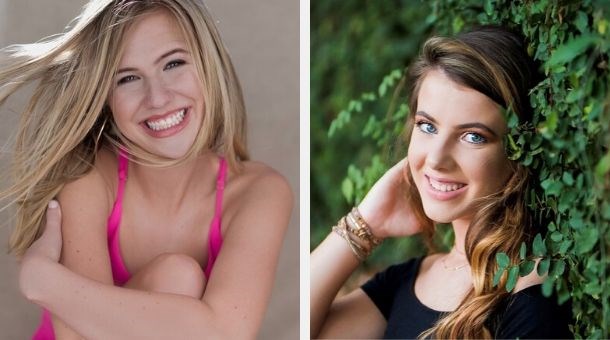 Lily Anderson and Macy Sansing, 2020 Scholarship Recipients
HOOVER, AL – The Alabama Golf Association (AGA) is pleased to announce the selections of Lily Anderson of Birmingham and Macy Sansing of Chatom as the 2020 AGA Women's Scholarship Recipients. Anderson is currently a senior at Vestavia Hills High School and plans to attend the University of Alabama in the fall to pursue a degree in Nursing. Sansing is a senior at Washington County High School and plans to attend Mississippi State University in the fall to pursue a degree in Turf Management.
Anderson's career goal is to become a Nurse. "I am interested in nursing because I've had great doctors and nurses that have inspired me to go into the healthcare field. When the covid-19 pandemic hit, I saw the impact nurses were having in being able to help, and that solidified my choice to study nursing," stated Anderson. Lily has not only maintained a high GPA, but also has been involved with several extra-curricular activities including playing for the VHHS girls golf team and representing her city as a Vestavia Bell.
Sansing's career goal is to follow in her father's footsteps and become a Golf Course Superintendent. "Turf Management has always been a big part of my family. I have grown up not only loving to play golf, but loving to work on the golf course. After pursuing my degree in Turf Management at Mississippi State, I would like to come back to be the superintendent of The Pines of Chatom Golf Course," stated Sansing. Macy has shown a very strong work ethic working on the golf course the past three years, while maintaining her GPA, and being a member of the softball and golf teams.
"The Scholarship Committee is thrilled to award a scholarship to both Lily and Macy, stated Adam Powell, AGA Director of Women's Golf. We believe that they will be very successful in their future endeavors at the University of Alabama and Mississippi State University while representing the Alabama Golf Association."
About Alabama Golf Association Women's Scholarship
The Alabama Golf Association Women's Scholarship Fund's objective is to grant scholarships to deserving young women from the State of Alabama who have an interest in golf and are pursuing a baccalaureate degree at an accredited college or university. The AGA Women's Scholarship Fund has helped enable twenty-one young ladies to graduate college and is currently assisting four young ladies pursue their college degrees.
The 2020 Scholarship is valued at $20,000 over four years ($2,500 per semester and will be renewed on a fall and spring semester basis for eight consecutive semesters (4 years), given that all Scholarship requirements are maintained. This is not an athletic scholarship, rather it is an academic scholarship awarded to a young lady with an interest in golf.
About the Alabama Golf Association (AGA)
The Alabama Golf Association is a 501(c)(3) not-for-profit educational organization founded in 1915 whose mission is to serve and promote amateur golf in Alabama. AGA membership consists of over 110 member clubs represented by nearly 19,000 individuals. The activities and services of the Alabama Golf Association are governed by a Board of Directors consisting of Alabama golfers who wish to serve the game and the association through service.
AGA is the USGA's liaison for golf in Alabama conducting national championship qualifying, administering the World Handicap System including the GHIN service, course & slope rating and education. The AGA annually conducts 23 championships and team match competitions for men, women, juniors, and seniors. The AGA also conducts Alabama high school golf championships and assists with many collegiate events including the SEC Men's Golf Championship. In addition to competitions, the AGA administers the AGA Women's Scholarship Fund that is dedicated to assisting young female golfers in higher education and supports the Alabama Turfgrass Research Foundation.

Since 1980, the AGA has managed the affairs of the Southern Golf Association which includes conducting the Southern Amateur Championship and Southern Junior Championship, in conjunction with the Board of Directors of the Southern Golf Association.
For more information about the Alabama Golf Association, visit www.alabamagolf.org.
Facebook | Twitter | Instagram | YouTube