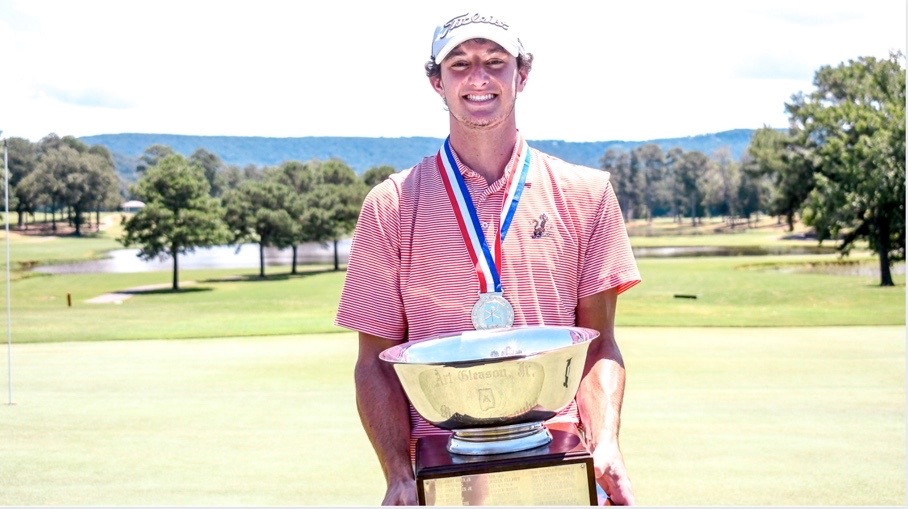 Max Johnson, The 75th Alabama Boys State Junior Champion
SCOTTSBORO, AL (July 23, 2020) – Final round results of the 75th Alabama Boys State Junior Championship of the Alabama Golf Association hosted by Goose Pond Colony Resort in Scottsboro, AL on Thursday, July 23, 2020.
Round 3 Information
Max Johnson of Fairhope left his final mark on junior golf with an unforgettable victory, claiming the title of the 75th Alabama Boys State Junior Championship. Johnson dominated the field carding a five-under 67 today and an overall 14-under 202. He will be entering his freshman year this fall as a member of the Auburn University Men's Golf Team.
"I accomplished all of my goals," Johnson said. "I was finally able to put together a good round on the last day."
Gregory Jones of Mobile and Davis Aaron of Northport tied for second, each player carding an overall 10-under 206 for three rounds. Jones posted two-under 70 for his final round, and Aaron posted four-under 68 for the day.
Both Jones and Aaron spoke to their strategies that catapulted them toward success.
"I just tried to keep focus and stick to my game plan," Jones said. "Shoutout to Max for playing real-good, it was fun to watch."
"The first day, when I shot a four-under 68, that was my best round ever," Aaron said. "I just really built on that momentum and luckily hung on to post a pretty low number."
Justin Olive of Florence shot four-under for the final day, and nine-under 207 altogether to stand fourth place.
Fifth place, Nick Dunlap of Huntsville, shot three-under 69 with an overall eight-under 208.
For more information on the Alabama Boys State Junior Championship, please visit: https://www.golfgenius.com/pages/2271861
About the Alabama Golf Association (AGA)
The Alabama Golf Association is a 501(c)(3) not-for-profit educational organization founded in 1915 whose mission is to serve and promote amateur golf in Alabama. AGA membership consists of over 115 member clubs represented by nearly 19,000 individuals. The activities and services of the Alabama Golf Association are governed by a Board of Directors consisting of Alabama golfers who wish to serve the game and the association through service.
AGA is the USGA's liaison for golf in Alabama conducting national championship qualifying, administering the USGA Handicap system including the GHIN Handicap service, course & slope rating and education. The AGA annually conducts 23 championships and team match competitions for men, women, juniors, and seniors. The AGA also conducts Alabama high school golf championships and assists with many collegiate events including the SEC Men's Golf Championship. In addition to competitions, the AGA administers the AGA Women's Scholarship Fund that is dedicated to assisting young female golfers in higher education and supports the Alabama Turfgrass Research Foundation.
Since 1980, the AGA has managed the affairs of the Southern Golf Association which includes conducting the Southern Amateur Championship and Southern Junior Championship, in conjunction with the Board of Directors of the Southern Golf Association.
For more information about the Alabama Golf Association, visit www.alabamagolf.org.
Facebook | Twitter | Instagram | YouTube
###
Media Contact:
Audrey Ferguson
AGA Communications
205-803-6524