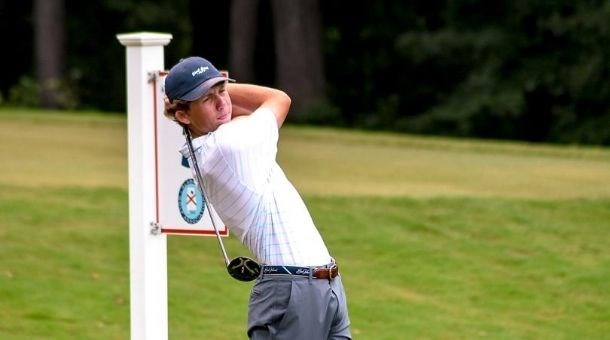 Round Three Leader of the 104th Alabama Men's State Amateur Championship, Gordon Sargent
OPELIKA, AL (July 31, 2020) – Third round results of the 104th Alabama Men's State Amateur Championship of the Alabama Golf Association hosted by Saugahatchee Country Club in Opelika, AL on Friday, July 31, 2020.
Round Three Information
Round 3 Scores and Results | Statistics | Photo Gallery
Round Four Information
Gordon Sargent of Birmingham is now in sole possession of the round three lead for the 104th Alabama Men's State Amateur Championship, shooting eight-under 64. With 10 birdies, five on the front nine and five on the back nine, Sargent marches on toward the final round with confidence. He is 17-under 199 through round three.
"I was tied for the lead with Drew, coming into the day," Sargent Said. "I'd never played with him before, but I knew he was a great player. I knew I'd need to shoot a good score to still be in it."
Sargent currently holds a four-stroke lead over Drew Mathers of Mobile. He posted four-under 68 for the day to stand second place. Altogether, he is 13-under 203. Mathers shared his mind-set for tomorrow with the AGA media team.
"Honestly, I just need to keep doing what I'm doing," Mathers said. "I'm hitting it well, and putts just need to fall tomorrow. Hopefully that works out in the end."
Jacob LeCroy of Anniston, Noah Martino of Mobile and Nick Robillard of Birmingham stand tied for third place. LeCroy carded nine-under for the day by charging into round three with five consecutive birdies. His powerful beginning boosted him atop the leaderboard.
Both Martino and Robillard shot four-under 68 to maintain third place standing. The overall score to encompass third place is 12-under 204.
The State Amateur scoring record is 270, held by Matt Lorenz at the 2018 State Amateur Championship hosted by Pine Tree Country Club in Birmingham. This record is on the line as Sargent moves toward shattering statistics, tomorrow.
This championship will be conducted by the Alabama Golf Association.
About the Alabama Golf Association (AGA)
The Alabama Golf Association is a 501(c)(3) not-for-profit educational organization founded in 1915 whose mission is to serve and promote amateur golf in Alabama. AGA membership consists of over 115 member clubs represented by nearly 19,000 individuals. The activities and services of the Alabama Golf Association are governed by a Board of Directors consisting of Alabama golfers who wish to serve the game and the association through service.
AGA is the USGA's liaison for golf in Alabama conducting national championship qualifying, administering the USGA Handicap system including the GHIN Handicap service, course & slope rating and education. The AGA annually conducts 23 championships and team match competitions for men, women, juniors, and seniors. The AGA also conducts Alabama high school golf championships and assists with many collegiate events including the SEC Men's Golf Championship. In addition to competitions, the AGA administers the AGA Women's Scholarship Fund that is dedicated to assisting young female golfers in higher education and supports the Alabama Turfgrass Research Foundation.
Since 1980, the AGA has managed the affairs of the Southern Golf Association which includes conducting the Southern Amateur Championship and Southern Junior Championship, in conjunction with the Board of Directors of the Southern Golf Association.
For more information about the Alabama Golf Association, visit www.alabamagolf.org.
Facebook | Twitter | Instagram | YouTube
###
Media Contact:
Audrey Ferguson
AGA Communications
205-803-6524