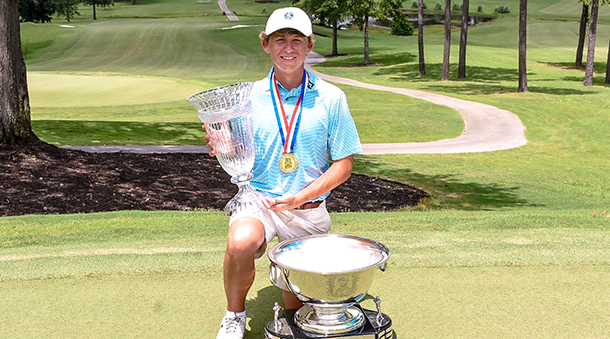 The 104th Alabama Men's State Amateur Championship, Gordon Sargent
OPELIKA, AL (Aug. 1, 2020) – Final round results of the 104th Alabama Men's State Amateur Championship of the Alabama Golf Association hosted by Saugahatchee Country Club in Opelika, AL on Saturday, Aug. 1, 2020.
Round Four Information
Final Scores and Results | Statistics | Photo Gallery
Gordon Sargent of Birmingham made history, victoriously breaking the tournament score record of the 104th Alabama Men's State Amateur Championship. His record-shattering 24-under 264 beats the former record of 270, formerly held by Matt Lorenz of Fairhope (2018).
Sargent, at 17-years-old, is the youngest player to win the Alabama State Amateur in the modern era. He claimed his title as Champion, holding a five-stroke lead over Jacob LeCroy of Anniston.
"It's nice to put it all together and make some birdies," Sargent said. "This gives me major momentum heading into the U.S. Amateur."
LeCroy broke the tournament score record by one-stroke, shooting 19-under 269. His impressive final round of seven-under 65 earned second place standing.
"You know, I was obviously coming after Gordon," LeCroy said. "I wasn't trying to sit back and let him take it, but he did. I broke the total, but he shattered it. He is the best golfer I've played with in a long time, and he's on his way up."
In third place, Drew Mathers of Mobile shot 16-under 272. University of Alabama Birmingham's (UAB) transfer posted three-under 69 for the final round.
"Today, there was no catching Gordon," Mathers said. "I would've had to shoot 60 to beat him by one overall. Hats off to him!"
UAB's Nick Robillard posted one-under 71 for the day, to stand fourth place. Overall, he carded a low 13-under 275.
Noah Martino battled throughout the week to hold Top 5 standing, posting an even-72 for the final round. Altogether, Martino shot 12-under 276.
The 104th Alabama Men's State Amateur Championship is conducted by the Alabama Golf Association.
About the Alabama Golf Association (AGA)
The Alabama Golf Association is a 501(c)(3) not-for-profit educational organization founded in 1915 whose mission is to serve and promote amateur golf in Alabama. AGA membership consists of over 115 member clubs represented by nearly 19,000 individuals. The activities and services of the Alabama Golf Association are governed by a Board of Directors consisting of Alabama golfers who wish to serve the game and the association through service.
AGA is the USGA's liaison for golf in Alabama conducting national championship qualifying, administering the USGA Handicap system including the GHIN Handicap service, course & slope rating and education. The AGA annually conducts 23 championships and team match competitions for men, women, juniors, and seniors. The AGA also conducts Alabama high school golf championships and assists with many collegiate events including the SEC Men's Golf Championship. In addition to competitions, the AGA administers the AGA Women's Scholarship Fund that is dedicated to assisting young female golfers in higher education and supports the Alabama Turfgrass Research Foundation.
Since 1980, the AGA has managed the affairs of the Southern Golf Association which includes conducting the Southern Amateur Championship and Southern Junior Championship, in conjunction with the Board of Directors of the Southern Golf Association.
For more information about the Alabama Golf Association, visit www.alabamagolf.org.
Facebook | Twitter | Instagram | YouTube
###
Media Contact:
Audrey Ferguson
AGA Communications
205-803-6524