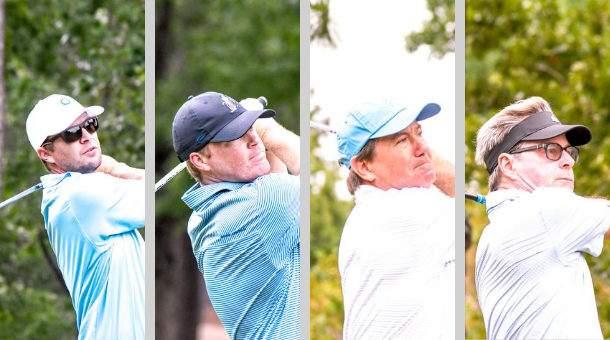 Hunter Hawkins (Left), Will McCurdy (Middle Left), Robert Nelson (Middle Right), Walker Grant (Right)
ALEXANDER CITY, AL – Round one results of the second Southeast Mid-Amateur Four-Ball Championship hosted by Willow Point Golf & Country Club in Alexander City, AL on Friday, August 28, 2020 (Mid-Amateur Division: 7199 yards; Senior Division: 6697 yards. Par 36-36—72).

Championship Links: Hole-by-Hole Scoring | Round 2 Starting Times

Play was suspended for the Mid-Amateur Division players at 3:09 p.m. due to lightning in the nearby area. Play resumed at 5:20 p.m. 22 teams will finish round one tomorrow. Round one will resume at 7:30 a.m. on Saturday, Aug. 29, 2020.

Atop the scoreboard within the Mid-Amateur Division, Hunter Hawkins of Leesburg, AL and Will McCurdy of Auburn, AL lead at seven-under 65. They remain one-stroke ahead of four teams standing T2.

Leading the Senior Division, Robert Nelson of Montgomery, AL and Walker Grant of Fairhope, AL carded nine-under 63 to take a one-shot lead. Their round included seven birdies and one eagle.

Nelson shared his excitement over the day with us.

"With a back injury, I was kind of grinning and bearing it all day long," Nelson said. "I just had one of those days, six birdies and an eagle. It was crazy to shoot that score, not feeling 100 percent."

Tied for second place within the Senior Division are Joey Fortner of Hoover, AL and Kevin Newton of Birmingham, AL alongside Bob Royak of Alpharetta, GA and Paul Royak of Tampa, FL. Each team posted an eight-under 64.

Round one resumes tomorrow morning at 7:30 a.m. Round two will begin at 7:45 a.m.

Championship Format: 54 holes of Four-Ball stroke play. Field will be cut to low 30 scores and ties after 36 holes. The number of sides making the cut is calculated based upon the percentage of sides in each division compared with the total field. In the event of a tie for first place in the Mid-Amateur or Senior Division, a hole-by-hole playoff will be held immediately following play. The play-off holes and their order of play will be determined by the Championship Committee. All other ties will be split equally. Initial groups will be for the first two rounds; the field will be cut and re-paired by the score after the second round.

Eligibility:
Entries are open to sides of male amateur golfers who have an active USGA Handicap Index® issued through a USGA Allied Golf Association. Maximum allowable combined team handicap is 8.8 for the Mid-Amateur Division; 12.8 for Senior Division under the USGA Handicap System™. Two players who play as partners comprise a side. Partners are not required to be from the same club or state. Both members of the side must qualify under the following age requirements:
Mid-Amateur Division – Both players must have reached his 25th birthday by August 28, 2020.
Senior Division – Both players must have reached his 50th birthday by August 28, 2020.
Visit www.alabamagolf.org for live scoring and follow us on social media: Twitter (@bamagolf); Instagram (@alabamagolf).
This championship is co-conducted by Willow Point Golf & Country Club and the Alabama Golf Association.

About Willow Point Golf and Country Club
In 1964, the last of the Russell Farms cattle farms, locally known as "the Wedges Farms," (having once been a farm where workers were hired for "wages") was chosen as the location of the Willow Point Golf and Country Club.
This beautiful championship 18-hole golf course meanders about on a peninsula totally surrounded by Lake Martin. Designed by Thomas Nichol, the par 72 course was constructed as a private club to replace the original course, which was given by the Russell family to the State of Alabama for the site of the Alexander City Junior College (now Central Alabama Community College).

In October 2003, Willow Point re-opened exactly one year after the course closed for renovation. Originally conceived to update the irrigation system, greens, bunkers and tees, the decision was made to totally renovate the entire course, including the practice facility, entry road and clubhouse. The world-renown architectural firm of Hurdzan/Fry was selected based on their reputation for designing some of the most beautiful, challenging and environmentally sound golf courses in the world.

Today, the course measures 7,465 yards from the championship tees, and includes six sets of tees to accommodate all levels of play. Twelve holes are located along the shores of Lake Martin – and all 18 holes have a view of the lake. The Bermuda fairways are accented by native grasses, and tall fescue, as well as stone and rock work bordering the lake.

About the Alabama Golf Association (AGA)
The Alabama Golf Association is a 501(c)(3) not-for-profit educational organization founded in 1915 whose mission is to serve and promote amateur golf in Alabama. AGA membership consists of over 115 member clubs represented by nearly 20,000 individuals. The activities and services of the Alabama Golf Association are governed by a Board of Directors consisting of Alabama golfers who wish to serve the game and the association through service.
AGA is the USGA's liaison for golf in Alabama conducting national championship qualifying, administering the USGA Handicap system including the GHIN Handicap service, course & slope rating and education. The AGA annually conducts 23 championships and team match competitions for men, women, juniors, and seniors. The AGA also conducts Alabama high school golf championships and assists with many collegiate events including the SEC Men's Golf Championship. In addition to competitions, the AGA administers the AGA Women's Scholarship Fund that is dedicated to assisting young female golfers in higher education and supports the Alabama Turfgrass Research Foundation.
Since 1980, the AGA has managed the affairs of the Southern Golf Association which includes conducting the Southern Amateur Championship and Southern Junior Championship, in conjunction with the Board of Directors of the Southern Golf Association.
For more information about the Alabama Golf Association, visit www.alabamagolf.org.