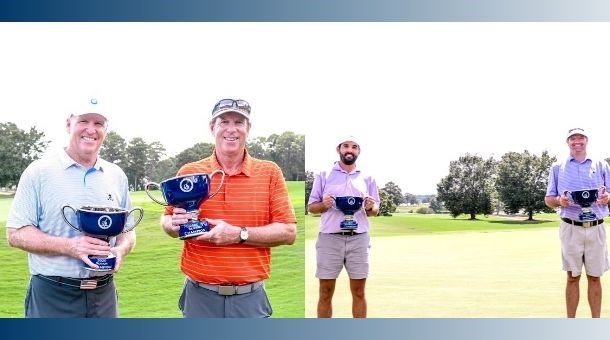 Senior Division Champions: Paul Royak (Left), Bob Royak (Middle Left)
Mid-Amateur Champions: Jackson King (Middle Right), Will Swift (Right)
ALEXANDER CITY, AL (August 30, 2020) – Final round results of the 2nd Southeast Mid-Amateur Four-Ball Championship, hosted by Willow Point Golf & Country Club in Alexander City, AL on Sunday, August 30, 2020 (Mid-Amateur Division: 7199 yards; Senior Division: 6697 yards. Par 36-36—72).

Championship Links: Final Results | Statistics | Photo Gallery

Jackson King of Vestavia, AL and Will Swift of Hoover, AL birdied No. 18 to be crowned the Mid-Amateur Division Champions of the 2nd Southeast Mid-Amateur Four-Ball Championship. They posted a seven-under 65 for the final round and an overall 22-under 194.

"Jackson played awesome these past few days," Swift said. "We found ourselves three-down against really great players, at one point. We knew we were battling, starting on No. 12, and we kept it going. I'm so fortunate to have a partner like Jackson, we had a great time."

Charlie McDaniel II of Monroe, GA and Jeremy Britt of Columbus, GA tied for second with Hunter Hawkins of Leesburg, AL and Will McCurdy of Auburn, AL. Each team posted a 21-under 195.

Bob Royak of Alpharetta, GA and Paul Royak of Tampa, FL fired a 25-under 191 to claim the Senior Division title. To close, they posted a 10-under 62 and secured their win.

Robert Nelson of Fairhope, AL and Walker Grant of Montgomery, AL carded a team score of seven-under 65 for the day, with an 18-under 198 to finish second place.

Standing third, Doug Davis and Jonathan Watts of Birmingham shot three-under 69 within the final round and 15-under 201 altogether.

This Championship is co-conducted by Willow Point Golf & Country Club and the Alabama Golf Association.

About Willow Point Golf and Country Club
In 1964, the last of the Russell Farms cattle farms, locally known as "the Wedges Farms," (having once been a farm where workers were hired for "wages") was chosen as the location of the Willow Point Golf and Country Club.
This beautiful championship 18-hole golf course meanders about on a peninsula totally surrounded by Lake Martin. Designed by Thomas Nichol, the par 72 course was constructed as a private club to replace the original course, which was given by the Russell family to the State of Alabama for the site of the Alexander City Junior College (now Central Alabama Community College).
In October 2003, Willow Point re-opened exactly one year after the course closed for renovation. Originally conceived to update the irrigation system, greens, bunkers and tees, the decision was made to totally renovate the entire course, including the practice facility, entry road and clubhouse. The world-renown architectural firm of Hurdzan/Fry was selected based on their reputation for designing some of the most beautiful, challenging and environmentally sound golf courses in the world.
Today, the course measures 7,465 yards from the championship tees, and includes six sets of tees to accommodate all levels of play. Twelve holes are located along the shores of Lake Martin – and all 18 holes have a view of the lake. The Bermuda fairways are accented by native grasses, and tall fescue, as well as stone and rock work bordering the lake.

About the Alabama Golf Association (AGA)
The Alabama Golf Association is a 501(c)(3) not-for-profit educational organization founded in 1915 whose mission is to serve and promote amateur golf in Alabama. AGA membership consists of over 115 member clubs represented by nearly 20,000 individuals. The activities and services of the Alabama Golf Association are governed by a Board of Directors consisting of Alabama golfers who wish to serve the game and the association through service.

AGA is the USGA's liaison for golf in Alabama conducting national championship qualifying, administering the USGA Handicap system including the GHIN Handicap service, course & slope rating and education. The AGA annually conducts 23 championships and team match competitions for men, women, juniors, and seniors. The AGA also conducts Alabama high school golf championships and assists with many collegiate events including the SEC Men's Golf Championship. In addition to competitions, the AGA administers the AGA Women's Scholarship Fund that is dedicated to assisting young female golfers in higher education and supports the Alabama Turfgrass Research Foundation.

Since 1980, the AGA has managed the affairs of the Southern Golf Association which includes conducting the Southern Amateur Championship and Southern Junior Championship, in conjunction with the Board of Directors of the Southern Golf Association.

For more information about the Alabama Golf Association, visit www.alabamagolf.org.

Facebook | Twitter | Instagram | YouTube
###

Media Contact:
Audrey Ferguson
AGA Communications
205-803-6524
audrey@alabamagolf.org