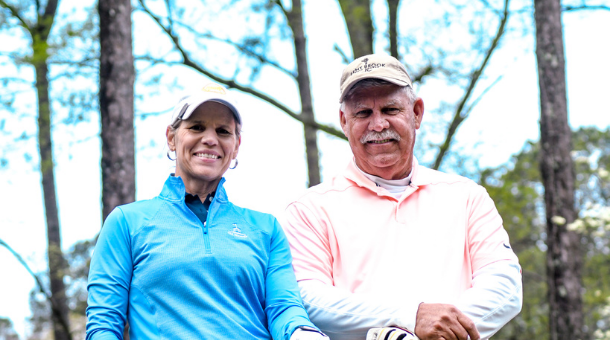 Frank Stewart and Lea Green, Leading Mixed Team
BIRMINGHAM, AL (March 26, 2020) – Round one results of the Alabama Partner's Kickoff Scramble hosted by RTJ Oxmoor Valley in Birmingham, AL on Friday, March 26, 2020 (par 36-36—72).
Championship Links: Round One Results | Statistics | Photo Gallery
Round one of the inaugural Alabama Partner's Kickoff Scramble is comprised of 13 sides and three teams: male, female and mixed. All sides competing are within in the Amateur Division.
Eric Shugart of Owens Cross Roads, AL and Tom Jungkind of Hoover, AL stand T1 with Brantley Scott and Stan Scott of Dothan, AL, leading flight one of the Male Division. Each side fired an 11-under 61.
Bart Pettus of Chelsea, AL and John Michael of Huntsville, AL posted seven-under 65 to lead flight two.
Within the Female Division, Dina Murray and Theresa Stratton of Opelika, AL shot two-under 70.
Frank Stewart and Lea Green of McCalla, AL lead the Mixed Team Division, carding a seven-under 65.
This two-day event is conducted at 36 holes of scramble stroke play. Entries are open to any side comprised of the following, regardless of age: male/male, male/female, female/female. One member of each side must be at least 16 years of age.
This event is conducted by the Alabama Golf Association.
About the Alabama Golf Association (AGA)
The Alabama Golf Association is a 501(c)(3) not-for-profit educational organization founded in 1915 whose mission is to serve and promote amateur golf in Alabama. AGA membership consists of over 115 member clubs represented by over 20,000 individuals. The activities and services of the Alabama Golf Association are governed by a Board of Directors consisting of Alabama golfers who wish to serve the game and the association through service.
AGA is the USGA's liaison for golf in Alabama conducting national championship qualifying, administering the USGA Handicap system including the GHIN Handicap service, course & slope rating and education. The AGA annually conducts 23 championships and team match competitions for men, women, juniors, and seniors. The AGA also conducts Alabama high school golf championships and assists with many collegiate events including the SEC Men's Golf Championship. In addition to competitions, the AGA administers the AGA Women's Scholarship Fund that is dedicated to assisting young female golfers in higher education and supports the Alabama Turfgrass Research Foundation.
Since 1980, the AGA has managed the affairs of the Southern Golf Association which includes conducting the Southern Amateur Championship and Southern Junior Championship, in conjunction with the Board of Directors of the Southern Golf Association.
For more information about the Alabama Golf Association, visit www.alabamagolf.org.
Facebook | Twitter | Instagram | YouTube
###
Media Contact:
Audrey Ferguson
AGA Communications
205-803-6524
audrey@alabamagolf.org