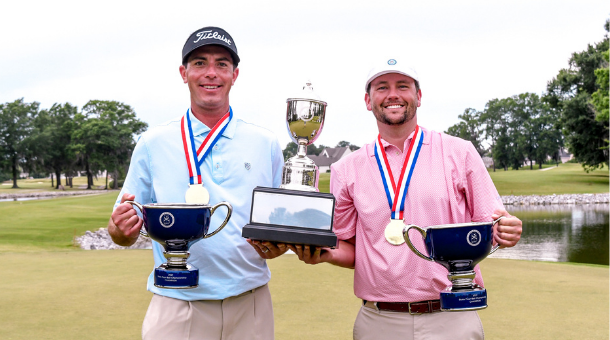 39th Alabama State Four-Ball Champions: Alex Balog (Left) and Daniel Burns (Right)
MONTGOMERY, AL (May 2, 2021) – Semifinal and Final match play results of the 39th Alabama State Four-Ball Championship of the Alabama Golf Association hosted by Wynlakes Golf & Country Club in Montgomery, AL on Sunday, May 1, 2021. (6835 yards, 73.2/135).

Championship Links: Match Play Bracket | Photo Gallery | Club Website | Championship Website
Alex Balog of Millbrook and Daniel Burns of Hampton Cove claimed the 39th Alabama State Four-Ball title to be crowned Champions. Balog and Burns remained in tight competition on the front nine of the Finals until they caught momentum on No. 8 with a putt for birdie. Their consistent game thru the back nine would prove their victory, as they steadily secured birdie putts on No. 11, 12, 14 and 16. Balog and Burns advanced past Wil Clowdus of Pike Road and Will Thompson of Birmingham by a 4 and 2 margin.
Balog and Burns held an early lead in the Semifinals, sinking a par putt on the No. 18 to secure a win, 1 up over Thomas Looney of Scottsboro and Steven Locke of Hollywood.
In the morning Semifinals, Clowdus and Thompson defeated two seed Jeff Taylor and Shaw Pritchett of Montgomery 3 and 1.
For more information about the 39th Alabama State Four-Ball Championship, please visit the Championship website.
This Championship is conducted by the Alabama Golf Association.
About the Alabama Golf Association (AGA)
The Alabama Golf Association is a 501(c)(3) not-for-profit educational organization founded in 1915 whose mission is to serve and promote amateur golf in Alabama. AGA membership consists of over 115 member clubs represented by over 20,000 individuals. The activities and services of the Alabama Golf Association are governed by a Board of Directors consisting of Alabama golfers who wish to serve the game and the association through service.

AGA is the USGA's liaison for golf in Alabama conducting national championship qualifying, administering the USGA Handicap system including the GHIN Handicap service, course & slope rating and education. The AGA annually conducts 23 championships and team match competitions for men, women, juniors, and seniors. The AGA also conducts Alabama high school golf championships and assists with many collegiate events including the SEC Men's Golf Championship. In addition to competitions, the AGA administers the AGA Women's Scholarship Fund that is dedicated to assisting young female golfers in higher education and supports the Alabama Turfgrass Research Foundation.

Since 1980, the AGA has managed the affairs of the Southern Golf Association which includes conducting the Southern Amateur Championship and Southern Junior Championship, in conjunction with the Board of Directors of the Southern Golf Association.
For more information about the Alabama Golf Association, visit www.alabamagolf.org.
Facebook | Twitter | Instagram
###
Media Contact:
Audrey Ferguson
Director of Media, Marketing & Communications
Alabama Golf Association
205-803-6524
audrey@alabamagolf.org