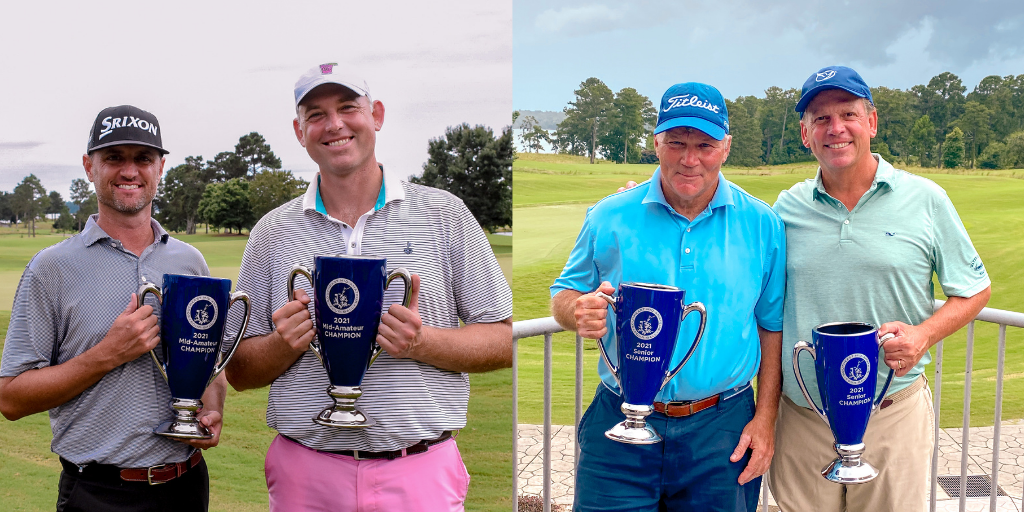 3rd Southeast Mid-Amateur Champions, Alan Coshatt (Left) and Dalton Melnyk (Middle Left); Senior Division Champions, Ray Harris (Middle Right) and Kevin Jordan (Right)
ALEXANDER CITY, AL (Aug. 29, 2021) – Continued round two results, alongside final round results, of the third Southeast Mid-Amateur Four-Ball Championship hosted by Willow Point Golf & Country Club in Alexander City, AL on Sunday, Aug. 29, 2021 (Mid-Amateur Division: 7210 yards; Senior Division: 6582 yards. Par 36-36—72).
Championship Links: Results | Photo Gallery | Club Website | Championship Website
Round two resumed at 7:15 a.m. Twenty-two players returned to complete their second round.
The Mid-Amateur Division cut line fell at nine-under-par 135 with 23 teams advancing to the final round. The Senior Division cut line fell at seven-under 137 with 13 teams advancing to the final round.
Round three utilized a 10 a.m. shotgun start.
Leading wire-to-wire, Alan Coshatt of Birmingham, AL and Dalton Melnyk of Atlanta, GA were named victorious, claiming the 3rd Southeast Mid-Amateur Four-Ball Championship title. They partnered to win their second playoff hole against Blair Hamm of Helena, AL and Clay Guerin of Hoover, AL.
Coshatt and Melnyk posted 8-under 64 for the day. Altogether, they went 26-under 190 for the tournament.
"It was a grind on the back, we had to work hard," Melnyk said.
Hamm and Guerin posted seven birdies to shoot a 29 on the back nine and finish second, posting a low 10-under 62 for the day. They carded 26-under 190 for the tournament.
Eric Howle of Chelsea, AL and Woodie Eubanks of Oneonta, AL claimed third, posting eight-under 64 to close. They carded 24-under 192 for the tournament.
Kevin Jordan of Smyrna, GA and Ray Harris of Leeds, AL claimed the Senior Division title. They fired eight-under 64 to close. Altogether, they went 21-under 195 for the tournament.
Finishing second, David Hancock of Greenville, AL and Mark Harris of Montgomery, AL carded seven-under 65 for the day and 20-under 196 overall.
Jeff Taylor and Shaw Pritchett of Montgomery, AL claimed third. They teamed to shoot seven-under 65. They went 18-under 198 for the tournament.
Visit alabamagolf.org for live scoring and follow us on social media: Twitter (@bamagolf); Instagram (@alabamagolf).
This championship is co-conducted by Willow Point Golf & Country Club and the Alabama Golf Association.
About Willow Point Golf and Country Club
In 1964, the last of the Russell Farms cattle farms, locally known as "the Wedges Farms," (having once been a farm where workers were hired for "wages") was chosen as the location of the Willow Point Golf and Country Club.
This beautiful championship 18-hole golf course meanders about on a peninsula totally surrounded by Lake Martin. Designed by Thomas Nichol, the par 72 course was constructed as a private club to replace the original course, which was given by the Russell family to the State of Alabama for the site of the Alexander City Junior College (now Central Alabama Community College).
In October 2003, Willow Point re-opened exactly one year after the course closed for renovation. Originally conceived to update the irrigation system, greens, bunkers and tees, the decision was made to totally renovate the entire course, including the practice facility, entry road and clubhouse. The world-renown architectural firm of Hurdzan/Fry was selected based on their reputation for designing some of the most beautiful, challenging and environmentally sound golf courses in the world.
Today, the course measures 7,465 yards from the championship tees, and includes six sets of tees to accommodate all levels of play. Twelve holes are located along the shores of Lake Martin – and all 18 holes have a view of the lake. The Bermuda fairways are accented by native grasses, and tall fescue, as well as stone and rock work bordering the lake.
About the Alabama Golf Association (AGA)
The Alabama Golf Association is a 501(c)(3) not-for-profit educational organization founded in 1915 whose mission is to serve and promote amateur golf in Alabama. AGA membership consists of over 115 member clubs represented by over 22,000 individuals. The activities and services of the Alabama Golf Association are governed by a Board of Directors consisting of Alabama golfers who wish to serve the game and the association through service.
AGA is the USGA's liaison for golf in Alabama conducting national championship qualifying, administering the USGA Handicap system including the GHIN Handicap service, course & slope rating and education. The AGA annually conducts 23 championships and team match competitions for men, women, juniors, and seniors. The AGA also conducts Alabama high school golf championships and assists with many collegiate events including the SEC Men's Golf Championship. In addition to competitions, the AGA administers the AGA Women's Scholarship Fund that is dedicated to assisting young female golfers in higher education and supports the Alabama Turfgrass Research Foundation.
Since 1980, the AGA has managed the affairs of the Southern Golf Association which includes conducting the Southern Amateur Championship and Southern Junior Championship, in conjunction with the Board of Directors of the Southern Golf Association.
For more information about the Alabama Golf Association, visit www.alabamagolf.org.
Facebook | Twitter | Instagram | LinkedIn
###
Media Contact:
Audrey Ferguson
Director of Media, Marketing & Communications
Alabama Golf Association
205-803-6524
audrey@alabamagolf.org