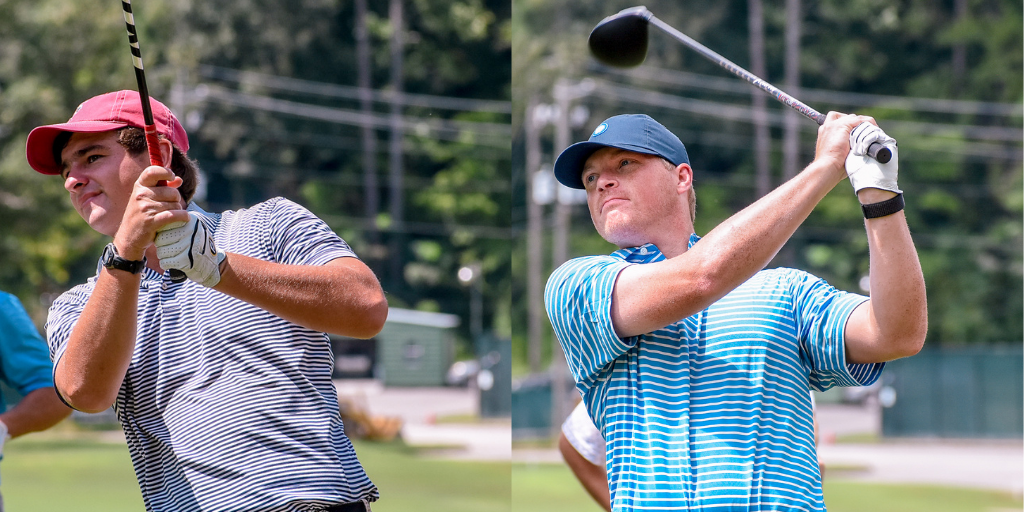 Round one co-leaders, Tyler Hitchner (Left) and Will McCurdy (Right)
HOOVER, AL – (Sept. 17, 2021) Round one results of the 33rd Alabama State Mid-Amateur Championship, hosted by Hoover Country Club in Hoover, AL, on Sept. 17, 2021.
Championship Links: Scoring and Results | Round 2 Pairings | Photo Gallery | Championship Website
Play was briefly suspended, due to lightning in the surrounding area, at 4:44 p.m. Play resumed at 5:17 p.m.
Will McCurdy of Auburn and Tyler Hitchner of Tuscaloosa posted six-under 66 to co-lead round one of the 33rd Alabama State Mid-Amateur Championship.
"I birdied the first hole, and that set the tone for the day," said McCurdy. "Tomorrow, I just hope the club feels the same in my hand."
Hitchner spoke to his strategy for the day.
"I played pretty darn good on the front nine, and I made some nice putts," said Hitchner. "That's what you've gotta do if you want to go low."
Wes Carter of Hoover carded five-under 67 to stand third for the round.
Nick Davis of Birmingham, Murray Flint of Birmingham and Chase Kennedy of Morris posted four-under 68 to stand T4.
Round Two of the 33rd Alabama State Mid-Amateur Championship begins Saturday, Sept. 18, 2021 at 7:30 a.m.
This Championship is conducted by the Alabama Golf Association.
About the Alabama Golf Association (AGA)
The Alabama Golf Association is a 501(c)(3) not-for-profit educational organization founded in 1915 whose mission is to serve and promote amateur golf in Alabama. AGA membership consists of over 115 member clubs represented by over 22,000 individuals. The activities and services of the Alabama Golf Association are governed by a Board of Directors consisting of Alabama golfers who wish to serve the game and the association through service.
AGA is the USGA's liaison for golf in Alabama conducting national championship qualifying, administering the USGA Handicap system including the GHIN Handicap service, course & slope rating and education. The AGA annually conducts 23 championships and team match competitions for men, women, juniors, and seniors. The AGA also conducts Alabama high school golf championships and assists with many collegiate events including the SEC Men's Golf Championship. In addition to competitions, the AGA administers the AGA Women's Scholarship Fund that is dedicated to assisting young female golfers in higher education and supports the Alabama Turfgrass Research Foundation.
Since 1980, the AGA has managed the affairs of the Southern Golf Association which includes conducting the Southern Amateur Championship and Southern Junior Championship, in conjunction with the Board of Directors of the Southern Golf Association.
For more information about the Alabama Golf Association, visit www.alabamagolf.org.
Facebook | Twitter | Instagram | LinkedIn
###
Media Contact:
Audrey Ferguson
Director of Media, Marketing & Communications
Alabama Golf Association
205-803-6524
audrey@alabamagolf.org