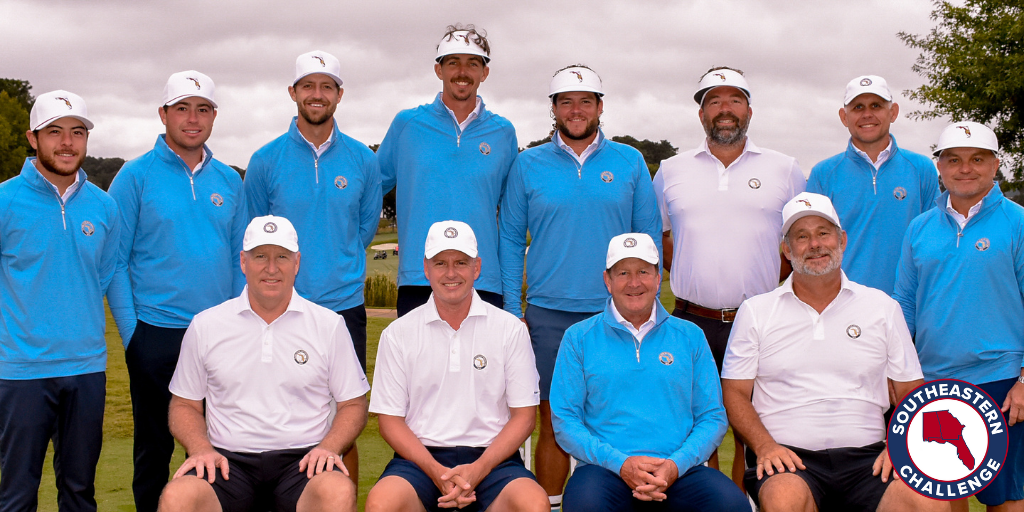 18th Men's Southeastern Challenge Match Champions, Team Florida
ALEXANDER CITY, AL (Oct. 17, 2021) – Day two results of the 18th Men's Southeastern Challenge Match, hosted by Willow Point Golf & Country Club, in Alexander City, AL, on Oct. 17, 2021. The event highlights 12-man teams representing Alabama, Florida and Georgia. Each team consists of seven mid-amateurs (age 25+), one amateur (age 21+) and four senior amateurs (age 50+) selected by their state golf association.
Scoring and Results | Photo Gallery | Meet Team Alabama | Championship Website
Team Florida wins the 18th Men's Southeastern Challenge Match with 27.50 points. Team Georgia earned second with 20.00 points. After a strong fight, Team Alabama finished third with 15.50 points.
Claiming victory, Team Florida breaks the tie in the overall series with nine victories. Team Georgia holds eight titles and Team Alabama has one.
Three-Ball Singles Matches – Round Three
The most points were available within round three. There were 36 total points available, while 24 total points were the maximum amount of points any state could earn.
Alabama came out firing, filling the board with blue. Team Alabama battled Team Georgia and Team Florida throughout the entire round.
Team Alabama secured 8.5 points in the Three-Ball Singles Matches.
John Wright earned two points. He defeated his Florida opponent, winning 4 & 3 and his Georgia opponent, winning 2 & 1.
Shaw Pritchett and Clay Guerin halved each of their matches against Florida opponents to collectively earn one point.
Shaw Pritchett earned one point against his Georgia opponent, winning 2 & 1.
Daniel Burns defeated his Georgia opponent 6 & 5, earning another point.
Claud Cooper won his match against Georgia, earning one point, after his opponent conceded.
Matthew Myers earned one point after he defeated his Georgia opponent, 4 & 3.
Brinson Holder won 4 & 3 against Georgia, securing another point.
Woodie Eubanks halved his match against his Georgia opponent.
Final Results:
Florida – 27.50
Georgia – 20.00
Alabama – 15.50
The 19th Men's Southeastern Challenge Matches will be contested in October of 2023, with Florida hosting.
For complete Southeastern Challenge Match history, please click here. For more information regarding Southeastern Challenge Match team selection criteria, please click here.
For more information regarding the Southeastern Challenge Match, please visit the Championship website.
About the Alabama Golf Association (AGA)
The Alabama Golf Association is a 501(c)(3) not-for-profit educational organization founded in 1915 whose mission is to serve and promote amateur golf in Alabama. AGA membership consists of over 115 member clubs represented by over 22,000 individuals. The activities and services of the Alabama Golf Association are governed by a Board of Directors consisting of Alabama golfers who wish to serve the game and the association through service.
AGA is the USGA's liaison for golf in Alabama conducting national championship qualifying, administering the USGA Handicap system including the GHIN Handicap service, course & slope rating and education. The AGA annually conducts 23 championships and team match competitions for men, women, juniors, and seniors. The AGA also conducts Alabama high school golf championships and assists with many collegiate events including the SEC Men's Golf Championship. In addition to competitions, the AGA administers the AGA Women's Scholarship Fund that is dedicated to assisting young female golfers in higher education and supports the Alabama Turfgrass Research Foundation.
Since 1980, the AGA has managed the affairs of the Southern Golf Association which includes conducting the Southern Amateur Championship and Southern Junior Championship, in conjunction with the Board of Directors of the Southern Golf Association.
For more information about the Alabama Golf Association, visit www.alabamagolf.org.
Facebook | Twitter | Instagram | LinkedIn
###
Media Contact:
Audrey Ferguson
Director of Media, Marketing & Communications
Alabama Golf Association
205-803-6524
audrey@alabamagolf.org