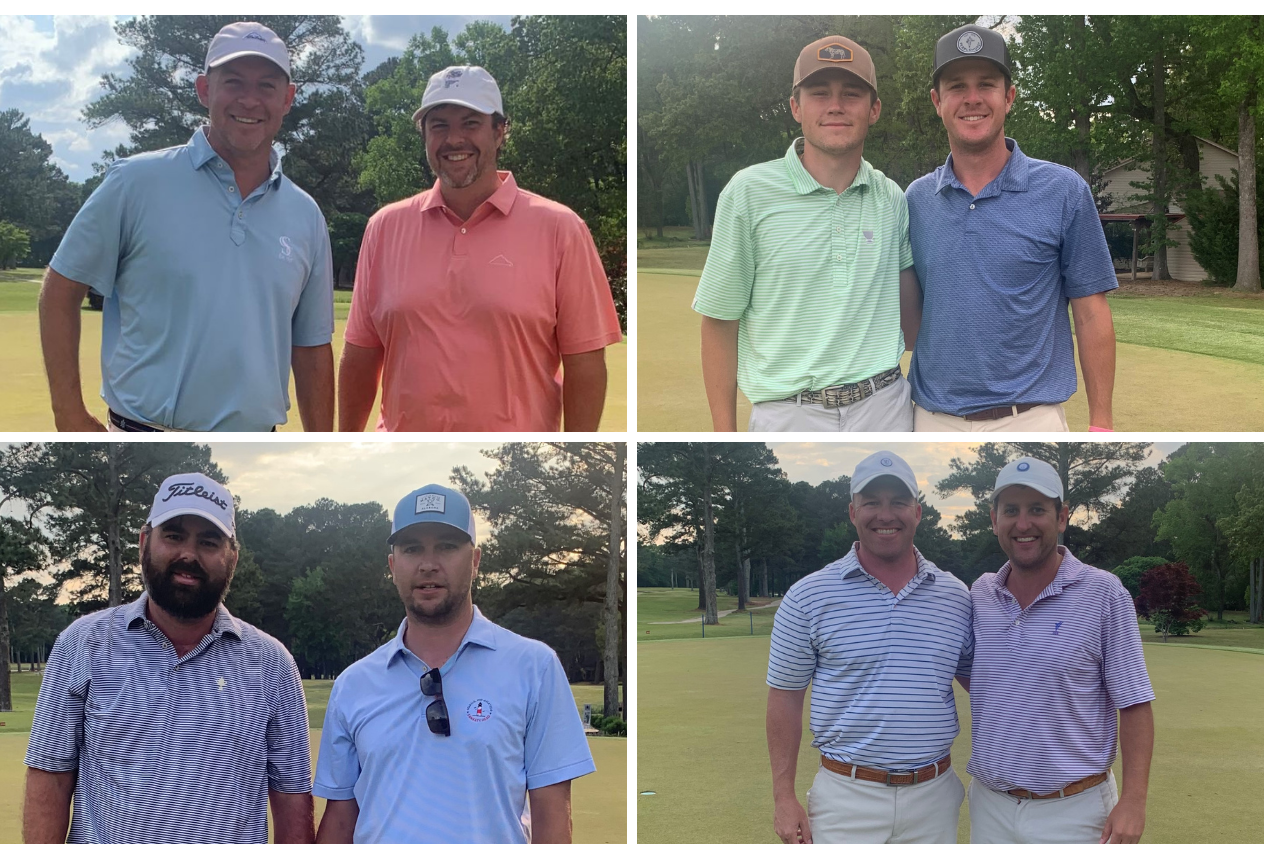 DECATUR, AL (April 30, 2022) – Round of 16 and Quarterfinal match play results of the 40
th
Alabama State Four-Ball Championship of the Alabama Golf Association hosted by Burningtree Country Club in Decatur, AL on Saturday, April 30, 2022. (7032 yards, 73.9/123).
Championship Links:
Scoring & Results
|
Starting Times (Semifinals)
|
Club Website
|
Championship Website
Top seed, Matt Gourgeot of Decatur and Stewart Whitt of Athens won two matches with a 4 & 3 win over the 16 seed Blair Hamm of Helena and Cade Oliver of Vestavia Hills in the morning of Round of 16. They followed it with a 3 & 2 victory over the defending champions Daniel Burns of Owens Cross Roads and Alex Balog of Elmore in the afternoon Quarterfinals.
Hayden Carner of Fairhope and Tanner Guthrie of Auburn collected two decisive victories with a 3 & 2 win over Braxton Gillespie of Irvington and Eric Howle of Chelsea in the morning matches and a victory in 19 Holes against Micah Jett of Madison and Nick Davis of Springville in the Quarterfinals.
In other action, Brinson Holder of Point Clear and Hunter Hawkins of Fort Payne claimed a 1 up victory in the Round of 16 and outlasted Craig Whitt and Kyle Demeester of Athens in the Quarterfinals. This duo will square off tomorrow in the Semifinal match against Clay Guerin of Hoover and James Salter of Auburn.
Guerin and Salter won 2 & 1 over Jonathan Ellis and Randy Jones of Athens in the Round of 16. In the Quarterfinals, they claimed a 19 hole victory over Maxime Faure of Hartselle and Tracy Lentz of Decatur
Semifinal matches begin at 7:30 a.m. at Burningtree Country Club with the Championship match slated for approximately 12:30 p.m.
For more information about the 40
th
Alabama State Four-Ball Championship, please visit
the Championship website
.This Championship is conducted by the Alabama Golf Association.
About the Alabama Golf Association (AGA)
The Alabama Golf Association is a 501(c)(3) not-for-profit educational organization founded in 1915 whose mission is to serve and promote amateur golf in Alabama. AGA membership consists of over 115 member clubs represented by over 22,000 individuals. The activities and services of the Alabama Golf Association are governed by a Board of Directors consisting of Alabama golfers who wish to serve the game and the association through service.
AGA is the USGA's liaison for golf in Alabama conducting national championship qualifying, administering the USGA Handicap system including the GHIN Handicap service, course & slope rating and education. The AGA annually conducts 23 championships and team match competitions for men, women, juniors, and seniors. The AGA also conducts Alabama high school golf championships and assists with many collegiate events including the SEC Men's Golf Championship. In addition to competitions, the AGA administers the AGA Women's Scholarship Fund that is dedicated to assisting young female golfers in higher education and supports the Alabama Turfgrass Research Foundation.
Since 1980, the AGA has managed the affairs of the Southern Golf Association which includes conducting the Southern Amateur Championship and Southern Junior Championship, in conjunction with the Board of Directors of the Southern Golf Association.
For more information about the Alabama Golf Association, visit
www.alabamagolf.org.

Facebook
|
Twitter
|
Instagram