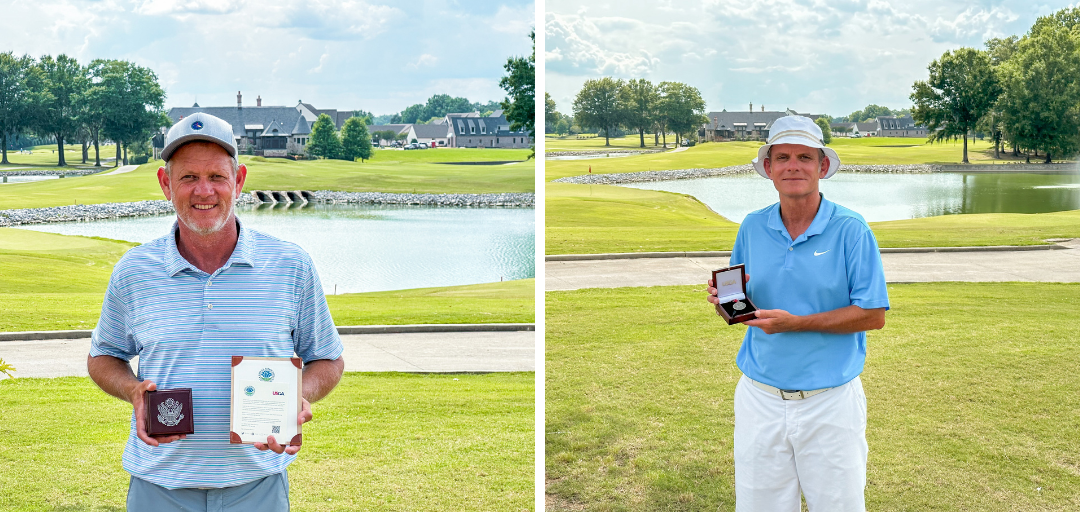 Chris Hockaday (left) and Scott Cornette (right) earn tickets to the 2023 US Senior Open Championship
MONTGOMERY, AL (June 1, 2023) – Final results from U.S. Senior Open Championship Local Qualifying hosted by Wynlakes Golf and Country Club in Montgomery, AL on Thursday, June 1, 2023 (6784 yards, par 72, Course/Slope Rating: 73.1/126).
Championship Links:
Final Results
Eighty-four players competed to punch their ticket to the 43rd U.S. Senior Open in Stevens Point, WI, on June 29-July 2, 2023. Two qualifying spots and two alternate positions were available at this qualifying site. 
Chris Hockaday of Angier, NC fired four-under 68 to earn medalist honors. After a three-man playoff for the second qualifying position, Scott Cornette of Montgomery, AL carded two-under 70 and won the playoff to secure the final qualifying spot.
Michael Hammett of Hattiesburg, MS and David Noto of Asheville, NC each posted two-under 70 and claimed the first and second alternate positions after the playoff.
The two qualifiers will advance to the 43rd U.S. Senior Open hosted by SentryWorld in Stevens Point, WI, on June 29-July 2, 2023.
For more information about the 43rd United States Senior Open Championship, please visit
the Championship website
.
This USGA National Championship Qualifier is conducted by the Alabama Golf Association.
About the Alabama Golf Association (AGA)
The Alabama Golf Association is a 501(c)(3) not-for-profit educational organization founded in 1915 whose mission is to serve and promote amateur golf in Alabama. AGA membership consists of over 117 member clubs represented by over 26,000 individuals. The activities and services of the Alabama Golf Association are governed by a Board of Directors consisting of Alabama golfers who wish to serve the game and the association through service.
AGA is the USGA's liaison for golf in Alabama conducting national championship qualifying, and administering the USGA Handicap system including the GHIN Handicap service, course & slope rating, and education. The AGA annually conducts 23 championships and team match competitions for men, women, juniors, and seniors. The AGA also conducts Alabama high school golf championships and assists with many collegiate events including the SEC Men's Golf Championship. In addition to competitions, the AGA administers the AGA Women's Scholarship Fund dedicated to assisting young female golfers in higher education and supports the Alabama Turfgrass Research Foundation.
Since 1980, the AGA has managed the affairs of the Southern Golf Association which includes conducting the Southern Amateur Championship and Southern Junior Championship, in conjunction with the Board of Directors of the Southern Golf Association.
For more information about the Alabama Golf Association, visit www.alabamagolf.org.
Media Contact:
Savannah Russo
Manager of Media, Marketing & Communications
Alabama Golf Association
205-803-6524
savannah@alabamagolf.org