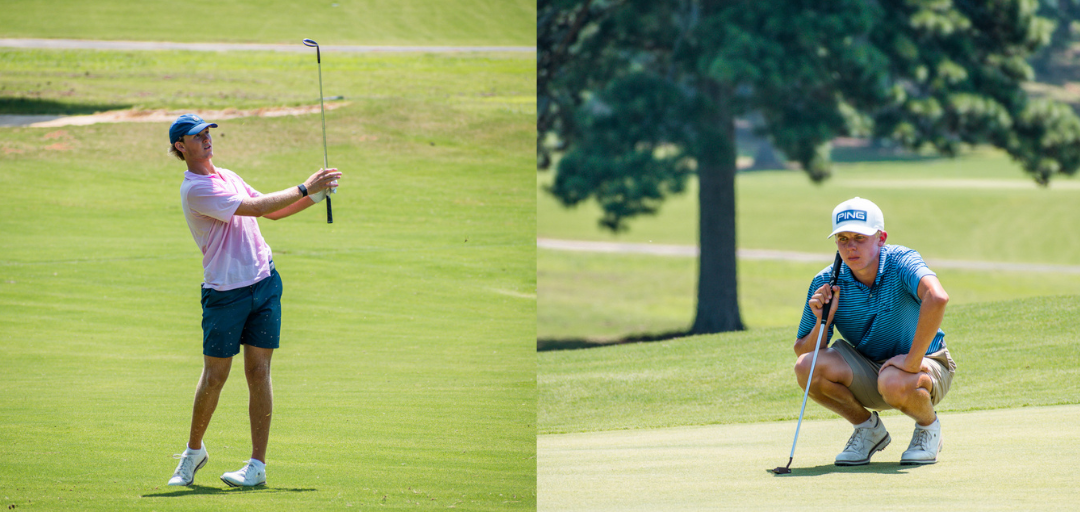 Michael Crocker and Andrew Hinson Lead Round Two of the 78th Alabama Boys State Junior Championship

SCOTTSBORO, AL (July 26, 2023) –
Round Two results of the 78th Alabama Boys State Junior Championship of the Alabama Golf Association hosted by Goose Pond Colony Resort (Lake Course), Scottsboro, Alabama, on Wednesday, July 26, 2023
.
Michael Crocker of Mobile and Andrew Hinson of Huntsville share the lead after Round Two of the 78th Alabama Boys State Junior Championship with 36-hole scores of 10-under 134. Crocker shot four-under 68 today with eight birdies and an eagle. Hinson shot seven-under 65 today with eight birdies. They stand four shots ahead of the competition.
"Towards the end, I got really hot," said Hinson. "I was making a lot of putts."
Trip Duke and Christopher Yeilding stand T3 with a two-day total of six-under 138.
The cut line fell
at +7, with 70 players advancing to the Final Round.
The Final Round of the 78th Alabama Boys State Junior Championship will begin at 7:00 a.m. off holes #1 and #10 on Thursday, July 27, 2023.
The 78th Alabama Boys State Junior Championship is conducted by the Alabama Golf Association
.
About the Alabama Golf Association (AGA)
The Alabama Golf Association is a 501(c)(3) not-for-profit educational organization founded in 1915 whose mission is to serve and promote amateur golf in Alabama. AGA membership consists of over 120 member clubs represented by over 27,000 individuals. The activities and services of the Alabama Golf Association are governed by a Board of Directors consisting of Alabama golfers who wish to serve the game and the association through service
.
AGA is the USGA's liaison for golf in Alabama conducting national championship qualifying, administering the USGA Handicap system including the GHIN Handicap service, course & slope
rating and education. The AGA annually conducts 23 championships and team match competitions for men, women, juniors, and seniors. The AGA also conducts Alabama high school golf championships and assists with many collegiate events including the SEC Men's Golf Championship. In addition to competitions, the AGA administers the AGA Women's Scholarship Fund that is dedicated to assisting young female golfers in higher education and supports the Alabama Turfgrass Research Foundation.
Since 1980, the AGA has managed the affairs of the Southern Golf Association which includes conducting the Southern Amateur Championship and Southern Junior Championship, in conjunction with the Board of Directors of the Southern Golf Association
.
Manager of Media, Marketing & Communications