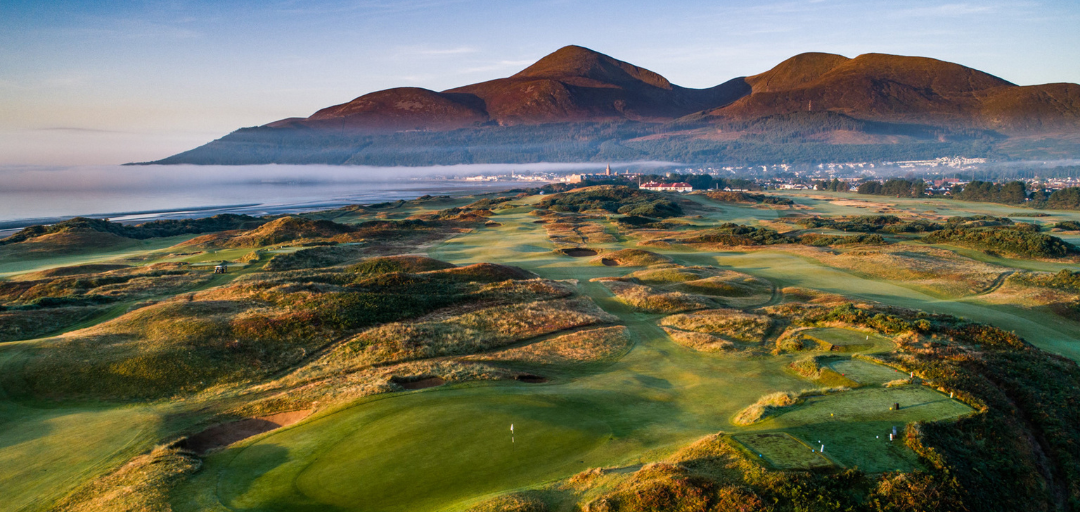 Royal County Down, Ireland
HOOVER, AL (July 31, 2023) – The Alabama Golf Association has announced its next international member golf trip destination to Northern Ireland for August 24-31, 2024.
The itinerary for golfers includes five rounds of golf featuring the world's No. 1 ranked Royal County Down (Championship) along with other renowned courses such as Royal Portrush Golf Club (Dunluce), Portstewart Golf Club (Strand), Ballyliffin Golf Club (Glashedy) and Ardglass Golf Club. Non-golfers will have a daily exploration trip to Belfast, Newcastle, Causeway Coast and Dunluce Castle. Registration is limited to the first 28 individuals.
Links:
Trip Itinerary & Details
|
Reservation Form
Travel package includes luxury chauffered ground transportation to/from Dublin International Airport, 4-star accommodations, daily breakfast, on-site Sullivan Golf Travel representative and two cocktail receptions & dinners. Join us on "A Trip of a Lifetime'' as we partner with Sullivan Golf Travel to create an exceptional opportunity for AGA Members to experience an incredible week abroad!
Frequently Asked Questions:
● How much does the trip cost?
○ Golfer, sharing room: €4,580 ($5,038)
○ Non-golfer, sharing room: €2,850 ($3,135)
○ Golfer, single room: €5,715 ($6,286)
○ *Note: Pricing is based on 28 participants. If fewer travelers participate, the cost per participant will increase and based upon prevailing Euro to USD currency conversion rates. Airline flight, Caddie fees and gratuity, non-hosted food functions and sightseeing entrance fees not specified are not included.
● Is my flight included in the cost of the trip?
○ No, your flight cost is in addition to the cost of the trip and is your own arrangement.
● When should I plan to depart for my trip?
○ It is important to make your flight arrangements for you to arrive on the date listed for the start of the trip. Travel to Ireland requires an overnight flight. Accordingly, since the arrival date is scheduled for August 24, you should schedule your departure flight for August 23.
● Which airport should I fly into?
○ It is recommended to fly in and out of the Dublin International Airport (DUB) for this trip.
● Which airlines fly to Ireland?
○ Aer Lingus, American Airlines, United Airlines, Air Canada, and Delta Airlines service Ireland from North America.
● I notice that the itinerary includes a total of five rounds of golf. Can I play fewer than 5 rounds?
○ In general, you will be required to pay for all five rounds that are included on the trip. There will be an off day from golf in the middle of the trip to allow for sightseeing and recovery.
● Can I play a round of golf on the "off day"?
○ Sullivan Golf Travel may investigate alternative golf options for the off day. Please note that any green fees or transportation costs would be at the participant's own expense.
● What activities are available for non-golfers?
○ Generally, each day of golf, the driver will take the golfers to the golf course for drop-off and then be available to take the non-golfers for available touring options depending on which golf course is being played that day.
For more information, visit the
Travel
page on the Alabama Golf Association website.
About the Alabama Golf Association (AGA)
The Alabama Golf Association is a 501(c)(3) not-for-profit educational organization founded in 1915 whose mission is to serve and promote amateur golf in Alabama. AGA membership consists of over 120 member clubs represented by over 27,000 individuals. The activities and services of the Alabama Golf Association are governed by a Board of Directors consisting of Alabama golfers who wish to serve the game and the association through service.
AGA is the USGA's liaison for golf in Alabama conducting national championship qualifying, administering the USGA Handicap system including the GHIN Handicap service, course & slope rating and education. The AGA annually conducts 23 championships and team match competitions for men, women, juniors, and seniors. The AGA also conducts Alabama high school golf championships and assists with many collegiate events including the SEC Men's Golf Championship. In addition to competitions, the AGA administers the AGA Women's Scholarship Fund that is dedicated to assisting young female golfers in higher education and supports the Alabama Turfgrass Research Foundation.  
Since 1980, the AGA has managed the affairs of the Southern Golf Association which includes conducting the Southern Amateur Championship and Southern Junior Championship, in conjunction with the Board of Directors of the Southern Golf Association.
For more information about the Alabama Golf Association, visit 
www.alabamagolf.org.
Media Contact:
Savannah Russo
Manager of Media, Marketing & Communications
Alabama Golf Association
205-803-6524
savannah@alabamagolf.org