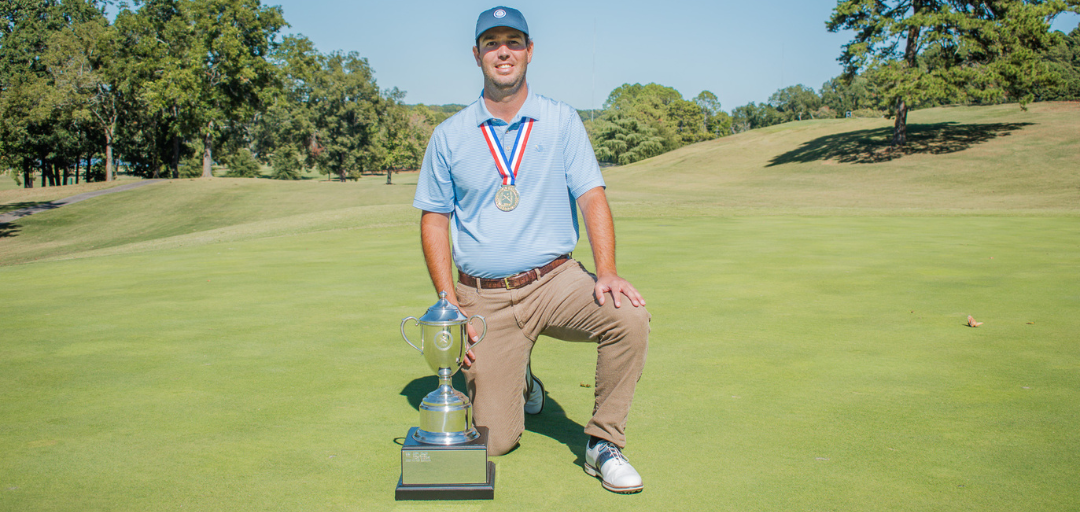 Conner Elder, 35th Alabama State Mid-Amateur Champion
GADSDEN, AL (Oct. 8, 2023) – Final Round results of the 35th Alabama State Mid-Amateur Championship hosted by Gadsden Country Club, in Gadsden, AL, on Oct. 8, 2023.
Championship Links:
Scoring & Results
|
Photo Gallery
|
Championship Website
After a three-hole playoff, Conner Elder of Mobile secured victory and claimed the 35th Alabama State Mid-Amateur Championship title, his first AGA Champion title. He fired an even-par 71 for the Final Round (67, 69, 71).
"It definitely hasn't sunk in yet," said Elder." "It's awesome. I still don't believe it right now."
Both Elder and Hunter Hawkins of Fort Payne posted a 54-hole total of six-under 207. The pair battled for three holes following today's play to determine who would become champion.
Hawkins posted a four-under 67 during the Final Round today (69, 71, 67).
Blake Kelley of Birmingham carded an overall 208. He fired a 69 today to secure bronze.
The top ten finishers will receive an exemption into the 2024 Alabama State Amateur Championship, hosted by Shoal Creek Club. In addition to Elder, Hawkins, and Kelley, the following players will receive an exemption:
● Chris Hummel of Birmingham
● Trent Alexander of Florence
● Daniel Burns of Owens Cross Roads
● Daniel Keddie of Birmingham
● Alex Balog of Elmore
● Will McCurdy of Auburn
● Wil Clowdus of Auburn
● Woodie Eubanks of Oneonta
Final Round Notes:
● Average score: 74.81
● 15 players broke par
● 143 birdies and 1 eagle posted in the final round
● Easiest hole: #3, par 5 (average score: 4.80)
● Hardest Hole: #5, par 4 (average score: 4.49)
This Championship is conducted by the Alabama Golf Association.
About the Alabama Golf Association (AGA)
The Alabama Golf Association is a 501(c)(3) not-for-profit educational organization founded in 1915 whose mission is to serve and promote amateur golf in Alabama. AGA membership consists of over 120 member clubs represented by over 28,000 individuals. The activities and services of the Alabama Golf Association are governed by a Board of Directors consisting of Alabama golfers who wish to serve the game and the association through service.
AGA is the USGA's liaison for golf in Alabama conducting national championship qualifying, administering the USGA Handicap system including the GHIN Handicap service, course & slope rating and education. The AGA annually conducts 23 championships and team match competitions for men, women, juniors, and seniors. The AGA also conducts Alabama high school golf championships and assists with many collegiate events including the SEC Men's Golf Championship. In addition to competitions, the AGA administers the AGA College Scholarship Fund that is dedicated to assisting young golfers in higher education and supports the Alabama Turfgrass Research Foundation.  
Since 1980, the AGA has managed the affairs of the Southern Golf Association which includes conducting the Southern Amateur Championship and Southern Junior Championship, in conjunction with the Board of Directors of the Southern Golf Association.
For more information about the Alabama Golf Association, visit 
www.alabamagolf.org.
Media Contact:
Savannah Russo
Director of Media, Marketing & Communications
Alabama Golf Association
205-803-6524
savannah@alabamagolf.org